Wearable technology for people who are blind or visually impaired.
Voice-activated device that provides increased independence by communicating visual information, audibly.
With OrCam MyEye, you can read text, recognize faces, identify products & more
OrCam MyEye
For People Who Are Visually Impaired
OrCam MyEye is a revolutionary voice activated device that attaches to virtually any glasses. It can instantly read to you text from a book, smartphone screen or any other surface, recognize faces, help you shop on your own, work more efficiently, and live a more independent life!
OrCam MyEye conveys visual information audibly, in real-time and offline.
OrCam Read.
Revolutionary Handheld AI Reader.
For people with the full spectrum of reading difficulties, including dyslexia.
Read full pages of text at the push of a button in a way that redefines digital reading.*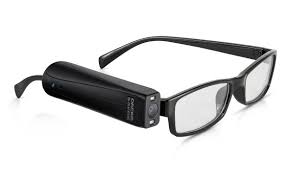 Hear it Instantly
Any type of text, people's faces, products and other visuals are instantly converted into audio for transmission through a tiny speaker that rests above the wearer's ear or through a connected Bluetooth device.