University of Leeds (UK) has initiated a 'Smart Agriculture' project for organic farms in Riverford. Theobjective of the project was to collect real-time data for optimized yield.
The project was to be able to capture useful data to start predicting measurements and events that could help farmers and agronomists to save time and money with its farms. In this project, the type of farm was not determining, because it has been deployed in a diverse range of crops, from vegetables to grain.
There was not any similar project so the system deployed was built from the ground-up. Besides, there were some 'musts' that defined the project. First of all, the solution must have a competitive price. Besides, the devices should be easy to setup and, of course, with low maintenance costs. Finally, the systems should have the ability to send data to Senseye cloud service with a minimal fuss.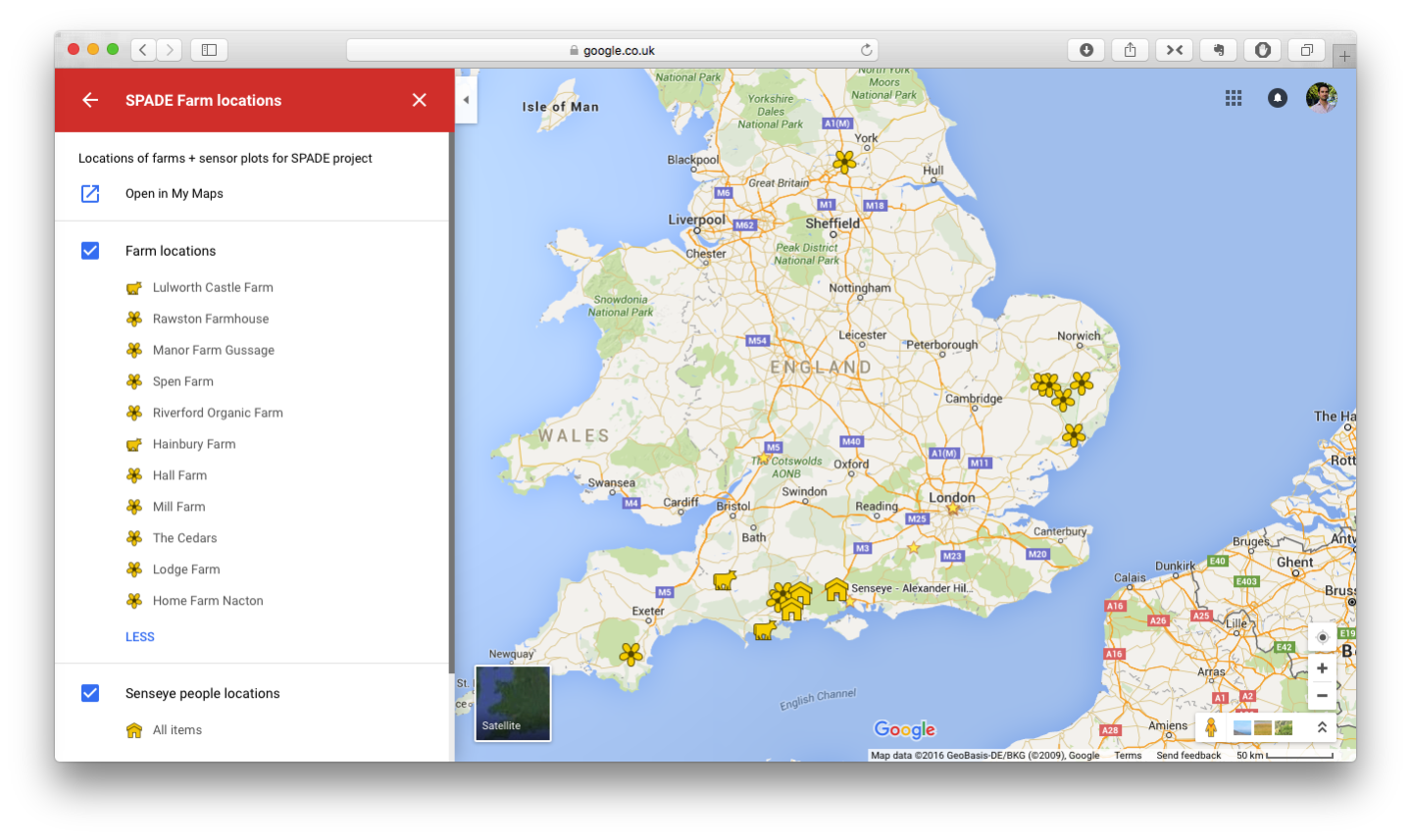 Precise location where the sensors were deployed
It was considered some providers but finally Libelium devices were choosen because of some reasons:
The best comparative price and value for money.
All the sensors were integrated and available.
The API and the codebase.
The Waspmote Plug & Sense! Sensor Platform 'ready out of the box' idea.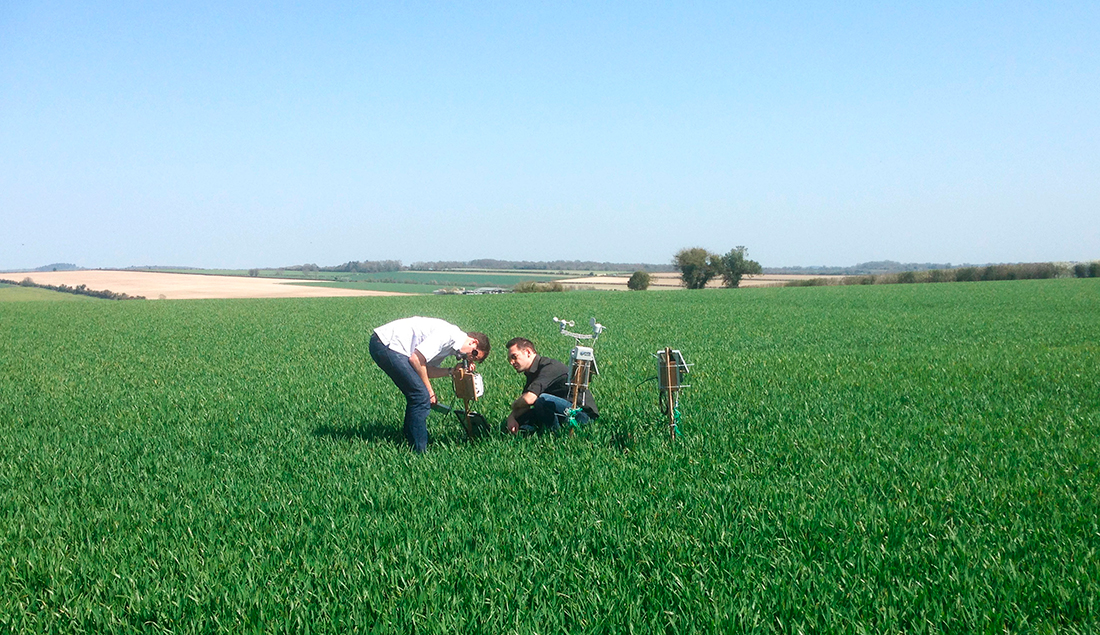 Libelium sensors being installed in the farms
In this case, Senseye chose Waspmote Plug & Sense! Sensor Platform, fully equipped with Libelium sensors, because of its features of automatic functioning, high resistance, durability and easy implementation. In fact, one of the experts involved in the project, Joe Britto, highlights these features about Libelium products: "We managed to install each unit on average in about 20 minutes". Specifically the devices installed were the following:
* Five Waspmote Plug & Sense! Smart Agriculture PRO, with Digital Humidity & Temperature probe, Soil temperature probe, Solar radiation probe and Soil moisture probe.
* Twelve Waspmote Plug & Sense Smart Agriculture, with Digital Humidity & Temperature probe, Soil moisture probe, Soil temperature probe and Weather Station WS-3000 probe
* Four Waspmote Plug & Sense Smart Environment, with NO2 probe, NH3 probe, CO2 probe, Temperature probe, Humidity probe and Volatile Organic Components sensor probe.
The devices comunicated directly to the Senseye cloud by GPRS communication protocol. Besides, in spite of its prolonged battery life, the nodes were equipped with a solar panel to ensure a long life and an autonomous functioning.
These nodes were used to monitor a wide range of environmental issues that affect directly to agriculture, for example solar radiation, wind speed and direction, rainfall, ambient temperature, humidity, gases, VOCs, soil moisture and temperature.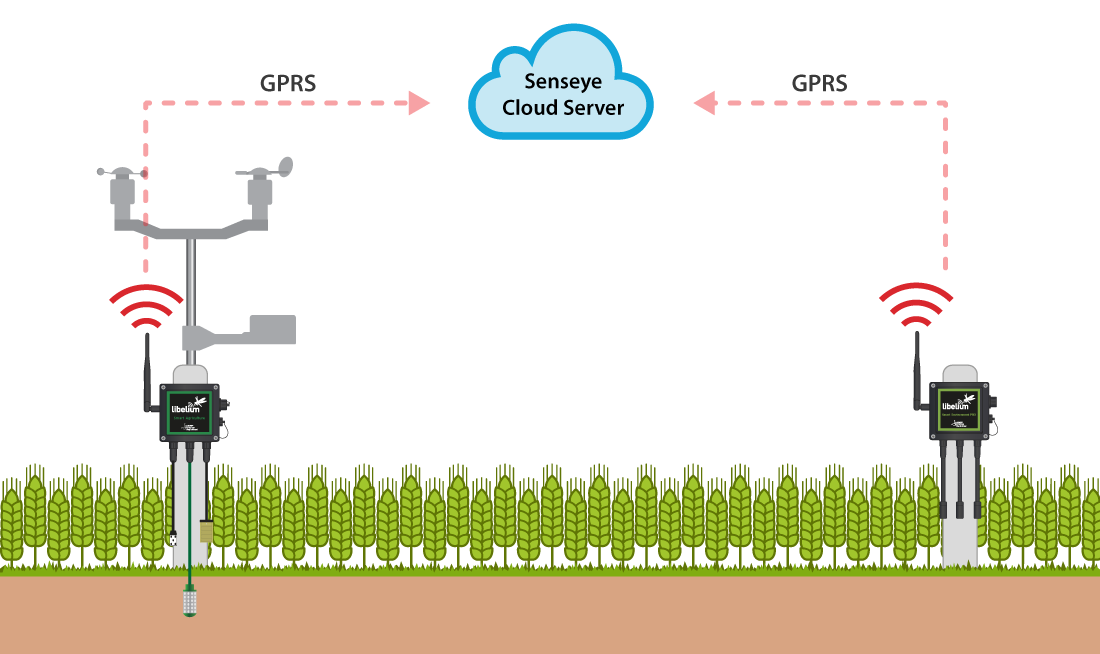 Senseye deployment functioning diagram
This project set the foundations of active projects in the future because the predictions and warnings about agriculture events can be useful for optimizing crop yields and therefore saving time and money to the agriculture business owners. "The system we developed was to predict parameters that would have effects on crop growth – so that farmers could be warned about threats to their yield", affirms Alexander Hill, co-founder of Senseye. Some parameters such as poor weather conditions or likelihood of pest infestation or disease could be prevented thanks to the sensors. The project was successful in that data was enough to predict matters like this accurately.
Sensor Details:
Libelium-Cumulocity Smart Agriculture Solution Kit
The Cumulocity Smart Agriculture Solution kit enables monitoring of environmental parameters in agriculture, vineyards, greenhouses or golf courses. Soil moisture and temperature, humidity, leaf wetness and atmospheric pressure sensors allow to control the amount of sugar in grapes to enhance wine quality, as well as to control micro-climate conditions to maximize the production of fruits and vegetables in greenhouses.
The three levels of depth of the soil moisture sensor are helpful to reduce waste of water by selective irrigation in dry zones. On the other hand, controlling humidity and temperature levels in hay, straw, etc. can prevent fungus and other microbial contaminants.
The data is sent to the Internet by the GW using Ethernet and 4G radios.