A new technology, Sgnl, allows you to answer phone calls through a rather unconventional method: your fingertip.
Sgnl, a smart strap, was developed by Innomdle Lab. The idea was the brainchild of CEO Hyunchul Choi, who sought to solve a dilemma that smartwatch users faced when taking calls: everyone could hear what was being spoken about.
The device receives voice signal from your phone through Bluetooth. When a signal is received, the strap creates a vibration through its body conduction unit (BCU). The vibration is transmitted through a user's hand to his or her fingertip with no risk of harm to the human body. When a user places their fingertip inside his or her ear, the vibration will echo, developing amplified sound within the confines of one's ear. This is especially valuable; Because the sound is contained only within one's ear, the device is able to allow for listening privacy. The user speaks through a microphone embedded in the strap and no conversation can be heard by others.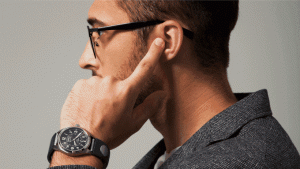 The technology also allows for immediate call reception, preventing the need for a user to rummage through their bag to find their phone. Furthermore, it blocks out background noise, allowing for voice clarity even in very noisy environments.
Sgnl is designed to be versatile and can replace the strap many different types of smartwatches from the Apple Watch to the Samsung Gear.
For more information, please visit: http://www.mysgnl.com/