Adlib simplifies the processing of the most complex documents, automatically transforming file formats from multiple sources into high-quality content, ready to unearth new market opportunities and business lifelines.
Adlib allows to automatically discover volumes of content from multiple sources, in any format. Easily understand your current content, including data that is duplicated, trivial and just plain obsolete – isolating the high-value content for additional processing.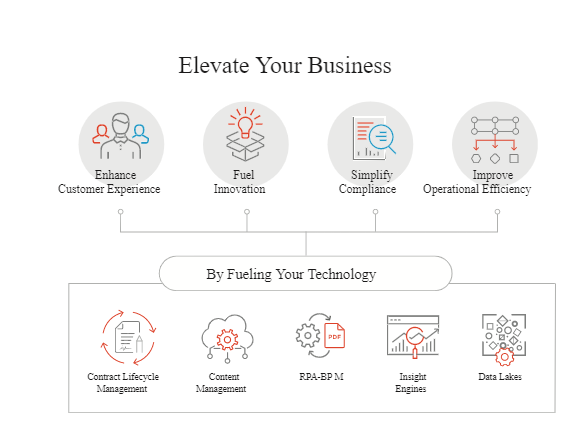 Properly classified, metadata rich content can now be reviewed, sorted and filtered with easy-to-use visualizations and reporting that create data-driven insights and decisions.
Integration Across Systems
Flexible integration options deliver Adlib's powerful capabilities to your Content Services (incl. ECM), Contract Lifecycle Management (CLM), Robotic Process Automation (RPA), Business Insight Engines (BI) and any others that demand high quality structured data from complex unstructured content.
Adlib's solution gives your organization a regulatory edge in a time where increasing regulations (GDPR, CCPA etc) and consumer demand for privacy make it even more crucial to track and properly manage PII to stay in compliance.
Adlib's automation and trainable AI to identify LIBOR-impacted documents based on deep content analysis, then tag or classify them with enhanced metadata as required before driving downstream remediation to eliminate all LIBOR exposure.
Unstructured data from contracts and loan agreements include content that can't be automatically searched for LIBOR-linked terms.