Automower® , a robotic mower that gives you the perfect lawn. Different models can mow lawn of various sizes – a small or medium-sized or large yard up to 1.25 acres.
Featuring smart technology and an intuitive interface, Automower® is a very capable robotic mower.
Obstacles, tight spaces and slopes are no sweat. In fact, thanks to its weather resistance, Automower® works in the rain, too. Experience the amazing future of lawn care from Husqvarna, the world leader in robotics.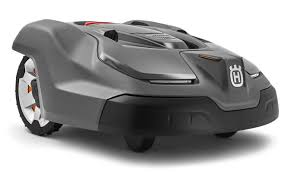 Standard installation
Efficient battery-powered mower returns on its own to recharging station as needed
Unique cutting system safely clips grass a little at a time, returning clippings to the soil for a natural fertilizing effect
Quick and easy adjustment of the cutting height from 0.8 to 2.4 inches
Advanced navigation allows robotic mower to handle obstacles and narrow passages
Bluetooth-enabled mower receives inputs via Automower® Connect at home