The BioCatch Case Manager is designed to be used by fraud operators who are responsible for resolving sessions and
activities flagged as high risk. In order to optimize the case resolution process, the BioCatch Case Manager provides
supporting information related to session details and risk level.
BioCatch generates powerful insights to detect all types of fraud and provide the real-time visibility needed to take the right action.
BioCatch continuously monitors a user's physical and cognitive digital behavior, analyzing thousands of interactions per session to distinguish between genuine users and cybercriminals.

Transforming Behavioral Data into Powerful Insights

The BioCatch Risk Engine is powered by machine learning and optimized against a diverse data set captured across trillions of digital interactions worldwide. The BioCatch risk engine profiles and analyzes a user's behavior on three levels to deliver profound visibility into risk.
Analyze fraud cases with access to important session details
• Mark cases as confirmed fraud, genuine and undetermined
• Manage fraud case queues with clear owners and workflow
• Out-of-the-box integration with the BioCatch Rule Manager and Truth Marking Interfaces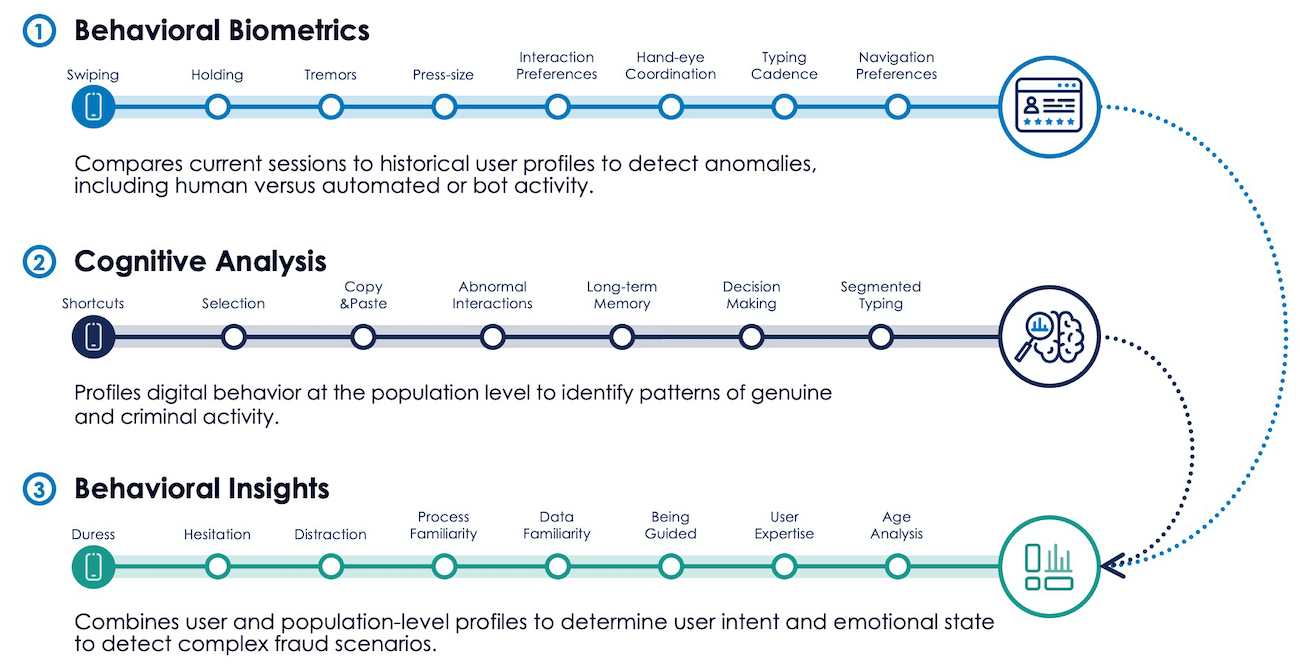 FRAUD PREVENTION THAT GOES A STEP BEYOND
BioCatch's AI-driven platform transforms digital behavior into powerful insights to deliver advanced fraud protection without compromising user experience.
CONTINUOUS PROTECTION
Analyze every digital interaction to ensure even the most subtle behavioral anomalies do not go unnoticed.
BEYOND BEHAVIORAL BIOMETRICS
Gain powerful insights into user intent and emotional state to detect the most complex fraud threats.
ADAPTIVE CUSTOMER EXPERIENCES
Align action with the level of risk to prevent more fraud and banish friction for genuine customers.
Cases in the Case Manager application are created by automated flagging of risky sessions or activities via the
BioCatch Rule Manager. When a policy rule is created, a flag can be set to determine whether a case should be created if the conditions are satisfied. Once a case is created, it automatically appears in the case queue.
The BioCatch Case Manager queue contains all open cases from the last seven days and are prioritized based on date,
status, and risk score.
www.biocatch.com