BioCatch is the leader in Behavioral Biometrics and advanced fraud detection, leveraging technology built upon machine learning to analyze an online user's physical and cognitive digital behavior to protect individuals online.
BioCatch Client Innovation Board is a novel, industry-led initiative focused on online behavior, which is a powerful method to protect banking customers and other internet users from online fraud.
BioCatch's mission is to unlock the power of behavior and deliver actionable insights to create a digital world where identity, trust and ease seamlessly co-exist.
Today, BioCatch counts over 25 of the top 100 global banks as customers who use BioCatch solutions to fight fraud, drive digital transformation and accelerate business growth.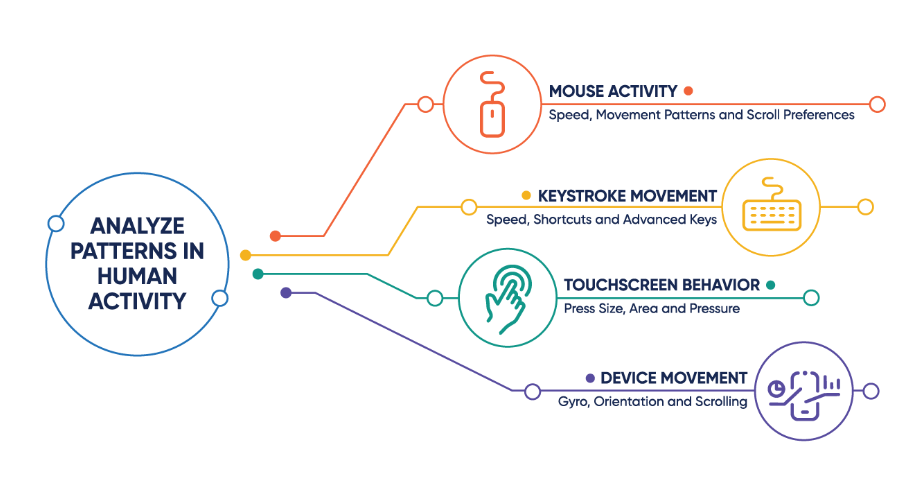 Transforming Behavioral Data into Powerful Insights
The BioCatch Risk Engine is powered by machine learning and optimized against a diverse data set captured across trillions of digital interactions worldwide. The BioCatch risk engine profiles and analyzes a user's behavior on three levels to deliver profound visibility into risk.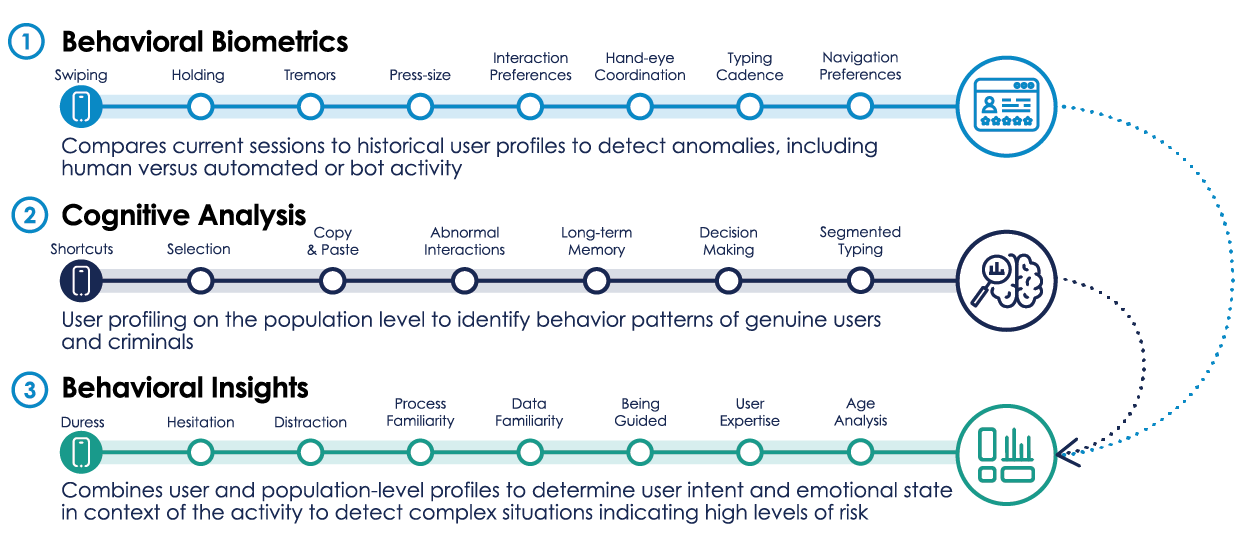 Usecase:
Identity Proofing
Analyzes how information is entered to detect the use of stolen or synthetic identities at account opening of when filling out online applications to stop fraud at the source.
Continuous Authentication
Continuously authenticates user sessions in real-time by matching user activity against behavioral profiles to verify identity throughout a session – from login to logout.
Fraud Prevention
Detects behavioral anomalies indicative of RATs, malware, robotic or aggravator activity that are not recognized by traditional fraud prevention methods.
Social Engineering Scams (a form of Authorized Push Payment fraud)
Detects subtle behavioral changes that suggest a victim is being unwittingly guided through a fraudulent transaction.
DEVICE & NETWORK ANALYSIS
Protect from common types of fraud through the analysis of more than 70 device and network elements
BEHAVIORAL BIOMETRICS
Combine behavioral insights from more than 200 million online users with device and network analytics to identify advanced fraud attacks
DEEP VISIBILITY INTO RISK
Analyze digital behaviors against billions of historical profiles and reveal fraud trends with a set of powerful visualization tools
DRIVE REAL-TIME ACTION
Specify actions based on risk level and unique behavioral insights and respond in real-time to emerging fraud patterns
OPTIMIZE FRAUD OPERATIONS
Increase case resolution efficiency with instant access to the latest high-risk activities and associated events
You can integrate BioCatch with Azure Active Directory B2C
https://learn.microsoft.com/en-us/azure/active-directory-b2c/partner-biocatch
Events: https://www.biocatch.com/events-page