BioSymetrics is a phenomics-driven drug discovery company that integrates clinical and experimental data, using machine learning, to translate human disease biology and advance precision medicine.
BioSymetrics is applying artificial intelligence (AI) and machine learning capabilities to the discovery and development of new drugs using a proprietary Contingent AI™ platform.
Contingent AI™ understands relationships within the data to provide sophisticated insights from clinical data.

It build translation upfront, using AI and in vivo validation to discover higher-confidence targets, faster
90 percent of clinical trials fail before a drug can make it to patients, most due to lack of efficacy against the selected target. Biology is complex and reductionist approaches fail.
To better address this complexity, BioSymetrics takes an AI-driven approach to target discovery. It connects disease phenotype and genotype data between humans and models systems, use machine learning to make predictions, and couple that with high-content in vivo validation of new targets with speed and confidence in translation.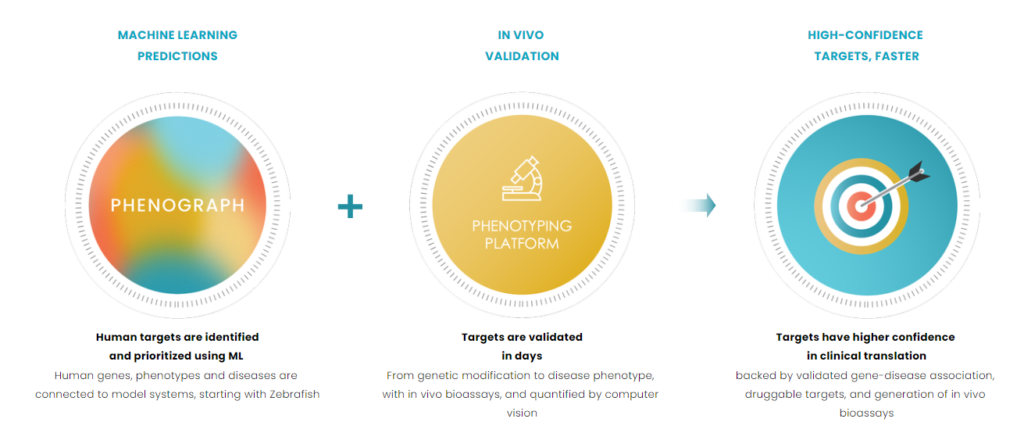 The Mechanism of Action (MOA) prediction function leverages our Contingent-AI™ and Elion™ framework to predict molecular mechanism underlying phenotypic screens and follow-on assays.
How MOA Prediction Works:
Input:
With BioSymetrics Mechanism of Action (MOA) prediction platform, small molecule phenotypic screens are processed through the below workflows:
Clustering public datasets
Denoising datasets
Cluster enrichment
Ranked compound listing
Bias detection engine
Output:
In usually less than three weeks, the MOA prediction platform will generate a detailed reporting dashboard including target/pathway predictions and accelerated hit prioritization.
MOA Prediction Use Cases
Apart from innovating the novel drug discovery process using Contingent-AI™ machine learning techniques, the MOA prediction platform is also used in drug repurposing/ drug repositioning as it can facilitate the discovery of new mechanisms of action for old drugs as well as new classes of medicines.
Novel Drug Discovery
Identification of MOA
Virtual drug screening
Hit Expansion
Pathway elucidation
Toxicity prediction
In Silico library screening
Library prioritization
Drug Repurposing
Polypharmacology
Multilabel classification
Side effect prediction
Off-target prediction
https://www.biosymetrics.com/research
https://www.biosymetrics.com/platform