CloudMinds builds and operate an open end-to-end cloud robot system, and offer it as a service to the world. Our pioneering world-class architecture connects robots and smart devices over a secure Virtual Backbone Networks (VBNs) to Cloud AI. Our Human Augmented Robotics Intelligence with Extreme Reality (HARIX) platform is an ever evolving "cloud brain" capable of operating millions of cloud AI robots performing different tasks simultaneously. Complemented by our smart joint technology (SCA), our cloud AI capabilities include Natural Language Processing (NLP), Computer Vision (CV), navigation, and vision-controlled manipulation that's bringing a vibrant cloud ecosystem of next generation robotics and smart devices to many industry value chains.
End-to-End Cloud Robotics
Our end-to-end cloud robot system combines two ground-breaking technologies, the Human Augmented Robot Intelligence with eXtreme Reality (HARIX) cloud intelligence architecture and robot bodies with Smart Compliant Actuators (SCAs) to empower smooth cloud robotics in a wide range of vertical applications. We also modify third-party robot bodies to enable them to be integrated into our cloud robot system to empower customer engagements in retail, hospitality, real estate, smart city and other robotics applications.
XR-1 is Our First Commercial Humanoid Service Robot
Powered by two ground breaking technologies, the Smart Compliant Actuator (SCA) and Human Augmented Robotics Intelligence with eXtreme Reality (HARIX), XR-1 is the first humanoid service robot. XR-1 is capable of vision-controlled robotic manipulations such as grabbing objects, opening doors, and threading a needle making it perfect as a concierge, receptionist, business guide, or VIP service staff under different scenarios.
XR-1 Technology Highlights
Deep learning capabilities using cloud brain (HARIX)
NLP, CV for face/object/posture/emotion recognition, Visual Simultaneous Location and Mapping (VSLAM)
Visual feedback manipulation for precise grasping/motion/pressing movements
3D semantic map for grasping/motion
Vertical domain knowledge & AI services
Accesses cloud brain technology via RCU (Robot Control Unit)
Cloud Infrared Temperature Measurement System
Body temperature monitoring
Cloud-based platform
Report Generator
Black-body Calibration
An AI-enhanced, infrared, large-scale, body temperature monitoring device for rapid detection of high temperature. This device can provide initial temperature screening for groups of people whose temperature are above the normal extent, and provide high temperature warnings after detection. Application scenarios include crowded places ranging from sports arenas, exhibition centers, airports and transport hubs for the CITMS 200, and office buildings, shopping centers, grocery stores, manufacturing facilities, and schools for the CITMS 100, and small offices and retail shops for the CITMS 50.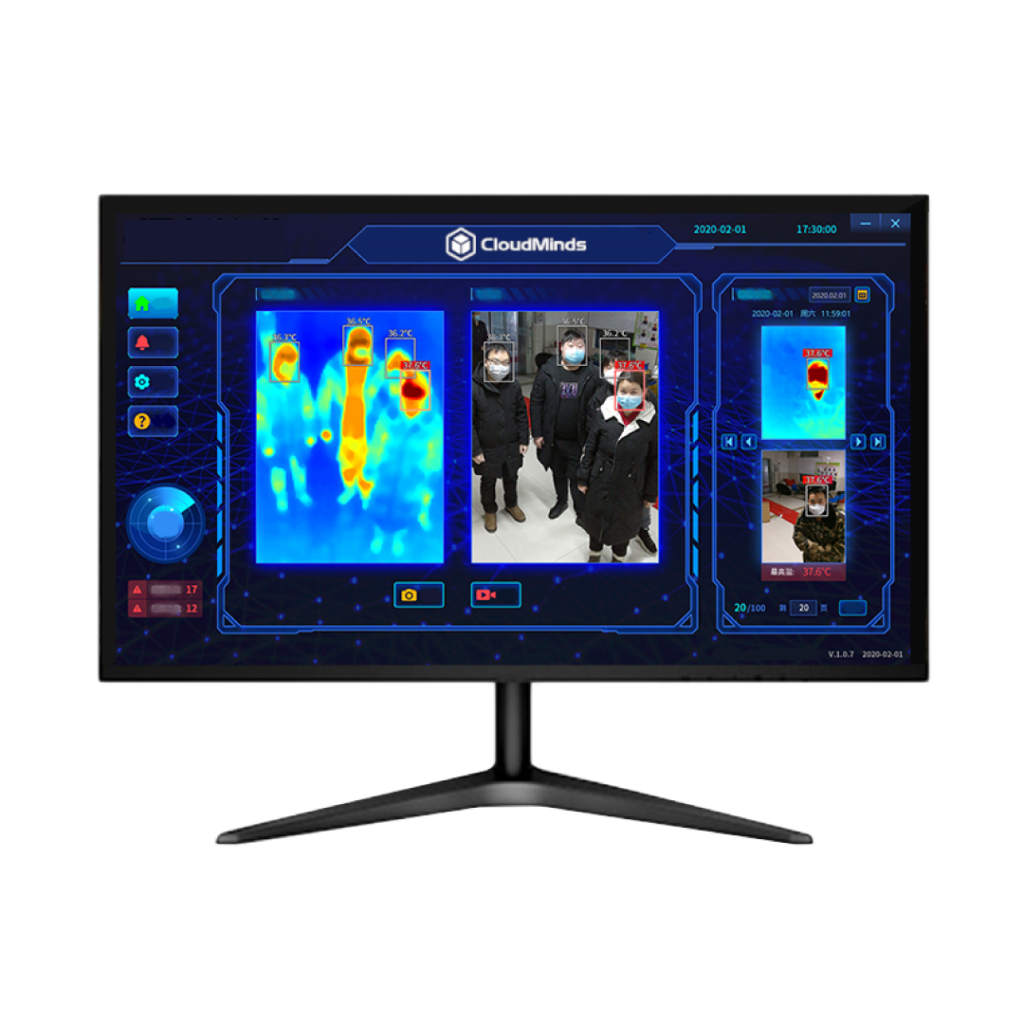 url :