World Robot Conference 2021 is being held from August 18-22 in Beijing.
More than 130 first-class companies will display over 500 exhibits and the latest products.
The four trends of the exhibition this year are medical, bionic, humanoid and brain-controlled robots as it seeks to provide an important platform for enhancing international communication.
More than 20 international organizations, including the IEEE Robotics and Automation Society (IEEE RAS), the British Institution of Engineering and Technology (IET) and the Russian Association of Robotics (RAR), attended.
Hangzhou-based Unitree Robotics – Go1 robot dogs
According to the company, the servo motors, decelerators, controllers and most of the sensors of its quadruped robots have all achieved independent research and development.
The Unitree A1 is known to be a true art of AI technology with its high-performance abilities. The A1 quadruped robot is the top seller of UnitreeRobotics® company and also a number one Asian competitor to famous Spot from Boston Dynamics. Both robots are in the same performance category but not in the same price category as Unitree A1 tends to be almost 7x cheaper.
Unitree Robotics A1 is the famous robot dog from.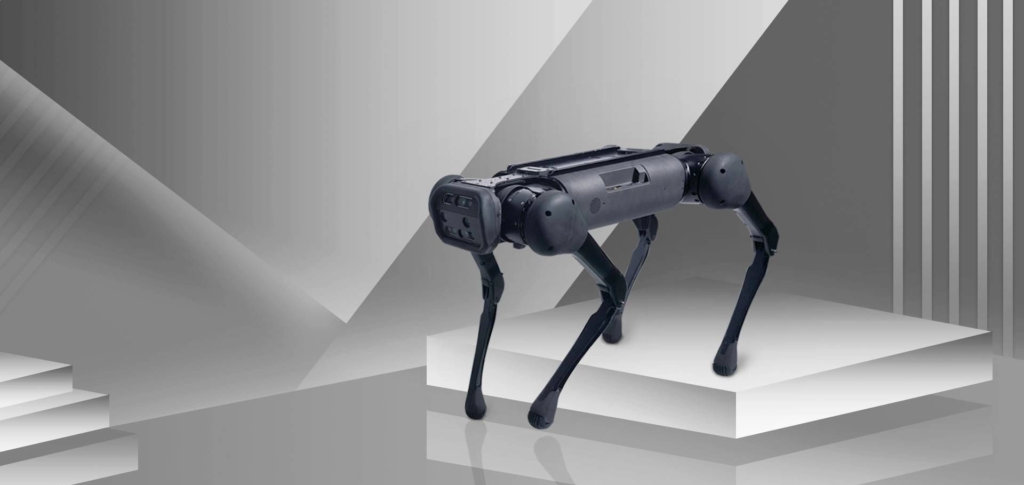 Unitree A1 Robot Dog
Unitree A1 is a quadruped robot for the research & development of autonomous systems in the fields of Robot-Mesh Interaction (HRI), SLAM & Transportation. Due to the four legs, as well as the 12DOF, this robot can handle a variety of terrains. The A1 is based on almost 5 years of research and comes with a perfected drive & power management system, which enables a speed of 3.3m/s or 11.88km/h with an operating time of up to 2.5 hours. In addition, the motors have a torque of 33.5N.m, which also allows jumps or backflips.
Differences Between Basic Unitree A1 & Unitree A1 Explorer
Like the Explorer, the Basic version of the Unitree A1 also has an IntelRealsense 3D camera, but the computing operations are performed by a Raspberry Pi in the Basic version, whereas an NViDIA TX2 or NX is installed in the Explorer version. Of course, the Raspberry Pi cannot perform full image processing but is usually only the interface between the robot and the third-party device. Thus, the Basic variant is suitable for all those who want to install their own CPU & GPU, and the Explorer variant for all those who like to have a complete research platform "out of the box".
Software of Unitree A1
The Unitree A1 comes standard with an ARM Cortex A72 CPU, which provides sufficient performance for SLAM, optional devices such as 2D LiDAR and much more. If desired, the A1 can be equipped with an Nvidia TX2, which also enables path planning, 3D-SLAM, CUDA and much more. The robot is based on an Ubuntu OS with ROS.
In addition, we provide complete simulation & visualization tools, such as Webots, Gazebo or RViZ. These tools have two major advantages. On the one hand, they allow feasibility studies without existing hardware as well as application development with minimal costs.
Technical Data
Dimensions: 500 x 300 x 400mm
Weight: 12Kg
Speed: 3,3m/s (11,88km/h)
Torque/Motor: 33,5N.m
Rotation Speed / Motor: 21 rad/s
RTOS: Ubuntu + ROS
Runtime: 1 – 2,5h
Unitree A1 Kit Includes
1 x Unitree A1
1 x Unitree A1 Battery
1 x Unitree A1 Charger
1 x Unitree A1 Remote Controller
http://www.worldrobotconference.com/en/view/316.html