Evoware Seawead-based packaging. Evoware makes packaging material from seaweed extract: some types of packaging can be eaten as well! Evoware products can be used as packaging for solid foods and also contain hot liquid, like tea, coffee or instant soup.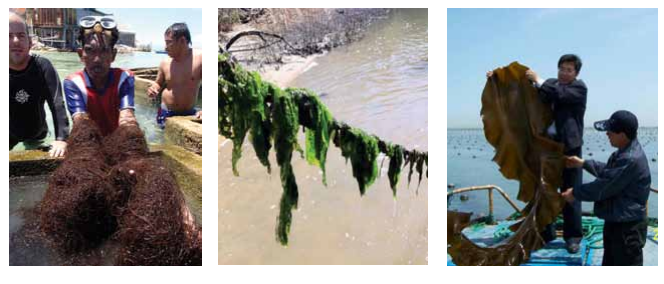 Evoware offers seaweed-based sachets and food wrappings to replace multilayer plastic packaging for dry food and non-food products, for example, coffee sachets or packaging for cookies and soaps. The materials used in the packaging come from renewable sources and can safely go back to nature without causing any harm to wildlife, as they are edible, biodegradable, and home compostable. In this way, Evoware offers an innovative approach to the elimination of plastic packaging waste.
PT Seaweedtama Biopac Indonesia (SBI) as manufacturer works together with PT Evogaia Karya Indonesia (EKI) as distributor to scale the impact of seaweed-based packaging through the Evoware brand.
Producing large volumes of seaweeds for human food, animal feed and biofuels could represent a transformational change in the global food security equation and in the way we view and use the oceans.
There are three basic types of seaweed: red, brown and green (Figure 1). Brown and green seaweeds are generally eaten for food, while the browns and reds are used in the production of the hydrocolloids: agar, carrageenan and alginate used as industrial thickeners.
https://rethink-plastic.com/home/
https://documents1.worldbank.org/curated/en/947831469090666344/pdf/107147-WP-REVISED-Seaweed-Aquaculture-Web.pdf