The Daedalus Flight Pack is a jet suit capable of flying, hovering and powered jumps. It was created by British inventor Richard Browning, an athlete and Royal Marine Reservist.The Daedalus is different from other manned portable flight packs in that it uses additional jets attached to the hands. These enable it to be directed by moving the arms.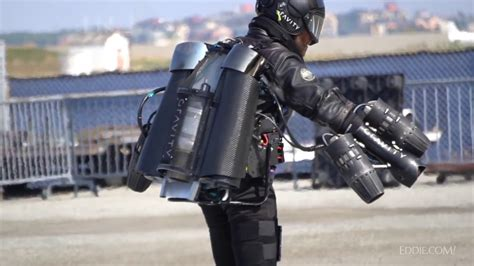 The jets and powerpack are affixed to the wearer with metal frames; it uses five micro-gas turbines – two on each arm and one on the back. Their power is 1,050 bhp (780 kW), with the turbines running at 120,000 rpm. The unit weighs 27 kilograms (60 lb) and has a maximum flight time of 10 minutes, with a current speed record of 85 mph (137 km/h; 74 kn). The flight pack can reach altitudes of 2,000 feet (610 m). Though its envisaged that in normal use, it would be flown at only three or four metres above the ground.
Projected initial cost for purchase is US$250,000, although this projection is expected to come down after full production. Browning says of the technology: "Our mission is to build an inspirational technology company by re-imagining the future of human flight and pioneering aeronautical innovation." The flight pack incorporates a heads up display which displays for the user operating information, including top speed, fuel left, etc.
https://drive.google.com/drive/folders/17Cf7-ionFO5phPcVnAaCxWHOzNJ-zBtJ