Austrian startup Fontus has developed a novel water bottle that harvest water from air. It's a vaporware that literally pull water vapor out of the air to fill itself.
Harvesting water from the air via processes like condensation has been practiced in various ways for eons, of course. In recent years, we've seen a James Dyson award go to an Australian irrigation system that works on the same principle, as well as a lightweight bamboo tower that grabs its own water. But the ability to do so basically on-demand and on the go could be a big deal for hikers, bikers and just about anyone with limited access to clean drinking water.
http://fontus.at/wp-content/uploads/video/fontus_new.mp4
HARVESTING WATER FROM THE AIR IS A METHOD THAT HAS BEEN PRACTISED FOR MORE THAN 2000 YEARS. THE EARTH'S ATMOSPHERE CONTAINS CONSTANTLY AROUND 13.000 KM3 OF MOSTLY UNEXPLOITED FRESHWATER. THE FONTUS PROJECT WAS AN ATTEMPT TO DISCOVER THESE RESOURCES.
FONTUS WAS INVENTED TO BRING AN ALTERNATIVE WAY OF COLLECTING SAFE DRINKING WATER TO REGIONS WHERE DROUGHT AND UNCLEAN WATER ARE A BIG ISSUE. BIKES, AS THE MOST WIDESPREAD MEANS OF TRANSPORT IN THE WORLD, ESPECIALLY IN DEVELOPING COUNTRIES, SEEMED TO BE THE PERFECT VEHICLES TO COMBINE WITH THE INVENTION.

FONTUS RYDE AND AIRO MIGHT BE A CLEVER WAY OF ACQUIRING FRESHWATER IN REGIONS OF THE WORLD WHERE GROUNDWATER IS SCARCE BUT AIR HUMIDITY IS HIGH. THEY COULD WORK AS A MOBILE WATER WELL, FOR EXAMPLE, PROVIDING A CHILD WITH WATER FOR THE DAY WHILE RIDING TO SCHOOL
MOREOVER, THESE SELF – FILLING BOTTLES FREE TRAVELLERS AND ADVENTURERS FROM THE BURDEN OF WATER PROVISION DURING A TOUR. WE WORKED TOGETHER WITH PROFESSIONAL EXTREME ATHLETES AND WERE ABLE TO IDENTIFY TWO BASIC PROBLEMS THAT PEOPLE WHO SPEND TIME IN NATURE ARE ARDUOUSLY CONFRONTED WITH:
A HIKER MUST EITHER PLAN HIS ROUT IN A WAY THAT HE ALWAYS FINDS FRESH WATER SOURCES, OR HE MUST PACK HIS BACKPACK VERY HEAVILY IN ORDER TO HAVE WATER FOR THE WHOLE JOURNEY. FOOD IS IN COMPARISON MUCH LIGHTER, IF WELL CHOSEN, BECAUSE YOU CAN COMPRESS IT. BUT WATER WEIGHS WHAT IT WEIGHS; YOU DON'T HAVE MUCH OF A CHOICE.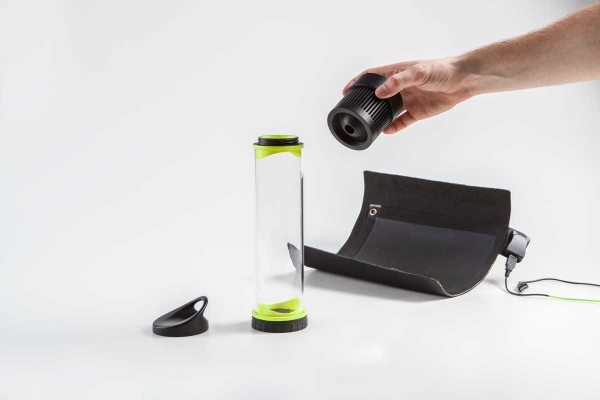 THESE PROBLEMS ARE A GREAT RESTRICTION FOR HIKERS AND OUR MAIN GOAL BECAME TO FIND A SOLUTION THAT WOULD GIVE ADVENTURERS THE FREEDOM TO GO WHEREVER THEY WANT!
'FONTUS RYDE' IS THE SELF FILLING WATER BOTTLE FOR YOUR BICYCLE. HARVEST WATER WHILE YOU ARE ON YOUR BIKE TOUR AND STAY REGULARY HYDRATED! THIS BOTTLE USES THE AIRSTREAM YOU CREATE WHILE RIDING IN ORDER TO SUPPORT A COOLER WHICH HELPS TO CONDENSE WATER FROM THE AIR.
http://fontus.at/