INDOOR SKYDIVING IS REAL FLYING in 'Ifly' state-of-the-art vertical wind tunnels. It is safe for all ages, experience levels and abilities and gives you a indoor sky diving experience for 60 sec.
A vertical wind tunnel has fans at the top to draw air through the flight chamber and then push it back down the sides.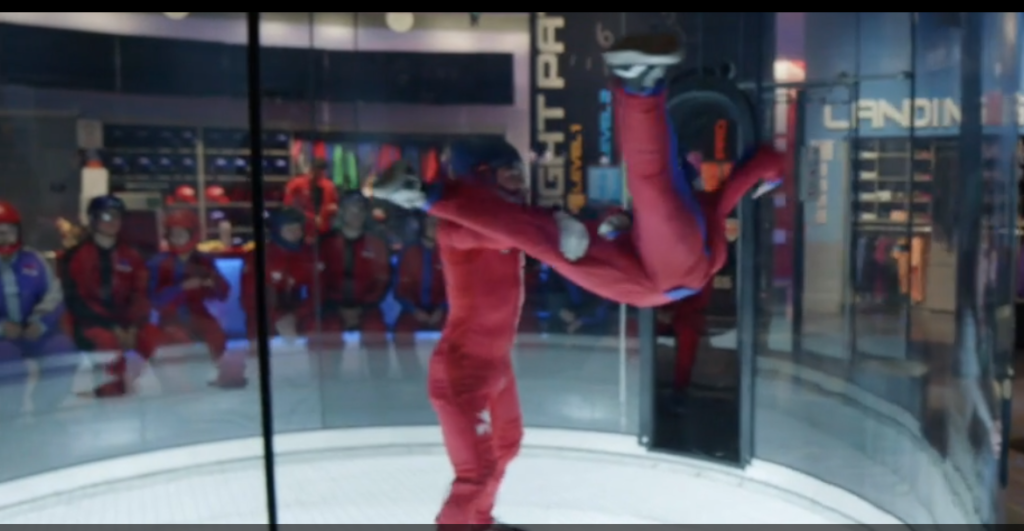 iFLY Tunnel Systems (formerly SkyVenture) created the vertical wind tunnel industry and has consistently led wind tunnel innovations for 20+ years. It offers ninth generation of wind tunnels, with each generation making leaps in areas such as airflow efficiency, cooling technology, flyer safety and "wow-factor." Their technology currently comes in three standard sizes, named based on the diameter of the flight chamber cylinder. These choices are 14-foot, 12-foot, or 10.5-foot.
They can also design custom wind tunnels. If you can dream it, they can probably design it. Past examples of custom projects include the world's largest wind tunnel (32-foot diameter built in Abu Dhabi), as well as 5 wind tunnels currently sailing on top of Royal Caribbean cruise liners.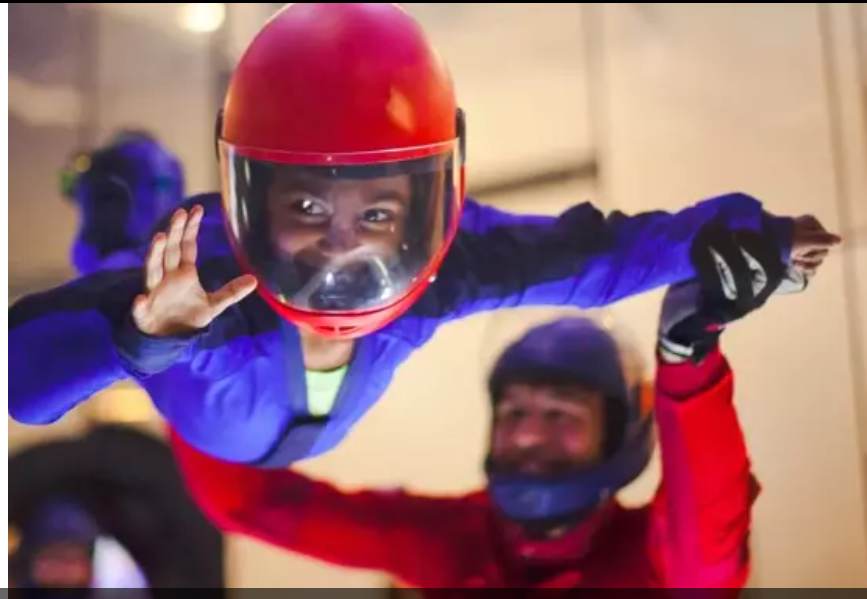 Gen 9 – 14
The Generation 9 – 14R4 is iFLY's most innovative redesign to date. It serves as the flagship choice for the industry-standard 14-foot wind tunnel. An exemplary model for all entertainment, sport, and military users, the Gen 9 14R4 was redesigned for both the skydiver and the tunnel owner. It provides a flight chamber suitable for elite competitions. Considerable alterations to the construction requirements save costs by eliminating excavation and shortening construction timelines with a simplified steel design. Enhancing the customer and spectator experience, the floor plan is optimized after years of experience from our corporate fleet.
Gen 8 – 12
The Generation 8 12R4 is a slightly smaller version of the 14-footer. While 12-foot facilities are not as popular for competitions, they still properly serve the vast majority of wind tunnel customers. They are ideal for entertainment focused projects, and have been built around the world including Australia, Indonesia, Canada and in many US cities.
Gen 9 – 10.5
Smaller markets and special situations demand innovation. The Gen M models open new markets in the most economical way, providing the best ROI opportunities.
Our 10.5 Recirculating model enjoys a 10.5-foot (3.2m) flight chamber cross section using our new design. With best-in-class dual return flow path and industry-leading aerodynamic performance, the 10.5 Recirculating tunnel will satisfy both beginner and advanced fliers
CUSTOM TUNNEL SYSTEMS ​
iFLY Tunnel Systems designs and manufactures wind tunnels of all sizes, both vertical and horizontal. Beyond our standard models and sizes, we offer custom models of any size for any application. Previous Custom designs include 16′, 18′, 22′, and 32' sizes (4.9m, 5.5m, 6.7M, and 9.8m). The iconic 32' (9.8m) indoor skydiving tunnel in Abu Dhabi is the world's largest and showcases our iFLY Tunnel Systems Brand. If you have the dream, we have the designers, engineers and expertise and can help deliver the solution. Invest in the dream of flight!