Ikea now has a smart home tabletop air quality sensor that can detect particles smaller than 2.5 micrometers.
Clean indoor air is essential to our wellbeing, and one of the first steps to better air is increased awareness of indoor pollutants. The new VINDSTYRKA air quality sensor allows measuring and monitoring of indoor air pollutant levels, complementing the existing IKEA range of smart solutions that enable better air quality in the home.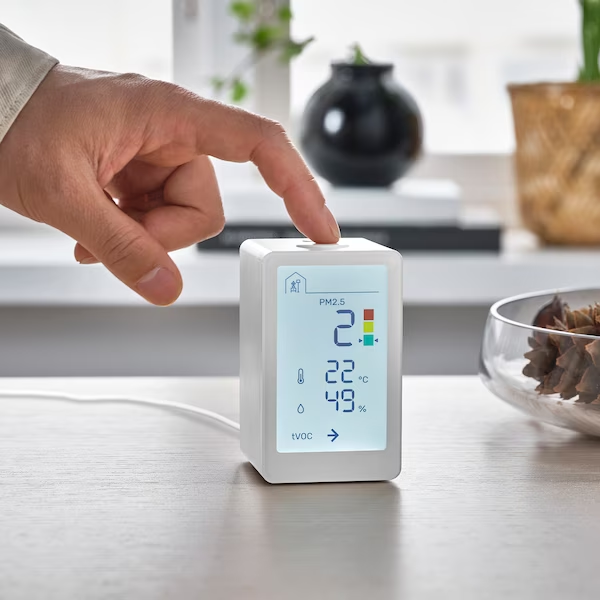 This sensor checks the air quality by monitoring harmful particles (PM2.5), temperature, relative humidity and total Volatile Organic Compounds (tVOC) in your home.
The arrow shows if the level of tVOC is increasing, decreasing or is stable. tVOC stands for total volatile organic compounds from, for example, paint, cooking or cleaning and household products.
By keeping an eye on things as harmful particles, temperature, humidity and volatile organic compounds you can affect the air quality at home and also help prevent for example mold and mildew growth.
Activities in the home like cooking and using an open fireplace and sprays can release harmful PM2.5 particles. They can also seep in from polluted outdoor air.
PM2.5 are small inhalable particles, that measure 0.1-2.5 micrometres.
The sensor does not emit sounds when it is on.
USB power adapter sold separately.
PM2.5 are inhalable particles, smaller than 2,5 micrometres, that measure 0.1-2.5 micrometres (one thousandth of a millimetre).
** TVOC means total volatile organic compound and is a measure of the pollution load of various gaseous pollutants
*** For the exact launch date of VINDSTYRKA air quality sensor in each IKEA market, please refer to the local IKEA contact.
According to WHO, 9 out of 10 people globally breathe polluted air. Indoor air can be just as polluted as outdoor air, yet many underestimate the risk of air pollution in their homes. IKEA is committed to give everyone access to clean air by increasing awareness of indoor pollutants and providing solutions that improve the quality of the air we breathe. Aiming to combine smart technology with design to enable better awareness of one's indoor air, IKEA launches VINDSTYRKA, a new smart sensor for indoor use that allows people to measure and monitor the air quality in their homes.
"Although we spend most of our time indoors, many of us tend to forget about indoor air pollution. We take for granted that the air in our homes is clean, but small everyday activities like cooking or cleaning can contribute to poor air quality just as much as industry or traffic. With VINDSTYRKA, our ambition has been to create an affordable high-performing air quality sensor to help our customers become more aware of the quality of the air they breathe in their homes, says Henrik Telander, Product owner at IKEA of Sweden.
The most harmful pollutants, particulate matter (PM2.5), can't be seen with the naked eye. VINDSTYRKA features a display that shows PM2.5 levels, humidity, temperature, and TVOC**. When connected to DIRIGERA, hub for smart products, the sensor makes indoor air quality levels readable in the IKEA Home smart app. In the app, users can also enable VINDSTYRKA to trigger other smart devices, making air quality levels actionable. VINDSTYRKA can be used on its own, but also to enhance the capabilities of the existing smart air purifier STARKVIND. Connecting VINDSTYRKA to STARKVIND enables the fan speed to be automatically adjusted in correlation with the amount of PM2.5 in the air, ensuring the air in the home is always as clean as possible.
"We want to work for positive change and know that there is no single solution to solve indoor air pollution. We strive to offer a variety of products and smart solutions that increase awareness of indoor air pollution and allow people to make the right changes for a home with cleaner air", says Henrik Telander.
https://www.ikea.com/us/en/p/vindriktning-air-quality-sensor-60515911/