Eureka! Ranch – Innovation Think Tank & Training Company
It helps organizations innovate by filling their pipeline with exciting ideas improving their process to go faster and ship more training their people to think innovatively.
It helps organization ideate and execute new ideas for growth in less than 30 days. It process is complete with customer feedback, prototyping, ROI and feasibility scoping. It accelerates development of a new concept into test market using our in-house R&D, Incubation and Production capabilities.
Training –
Online and in-person workshop transform any meeting into a fun, interactive learning exercise. 
Topics include:
Innovation 101
If/Then Thinking Adventure
Agile Leadership
These independent online mini-courses let you earn digital badges on specific skills.
badges include:
Why Innovation? Why Now? Why You? (Free)
Innovation Jump Start
Problem Solving
Courses & Certifications learners get in-demand skills to advance in today's world that they apply to a real life or work challenge under the guidance of a coach.
Our most popular certifications include:
Innovation Engineering Fundamentals Course with Blue Belt Certification
Innovation Engineering Mastery Course with Black Belt Certification
Eureka! Ranch was founded more than 35 years ago by Doug Hall.  Today the Ranch is led by CEO, Maggie Nichols, and a strong cadre of innovators, engineers, educators, and programmers, with founder, Doug Hall, remaining actively engaged as CIO and on special projects.  We help organizations in 3 ways: 1) building their innovation pipeline, 2) improving their innovation process, and 3) training their people to think more innovatively.  We work with large multinationals, non-profits, and small and mid-size companies around the  globe to help them think & act smarter, faster & more innovatively.
University of Maine – Innovation Engineering
Innovation Engineering is a new field of academic study and industrial practice based on a body of knowledge comprised of 48 skills. It is a multi-disciplinary program blending humanities, engineering, business, and patent law. The program was developed by the Innovation Engineering Institute, an alliance between Eureka! Ranch and the University of Maine.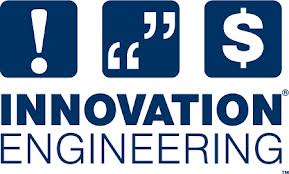 It found that the preacher teacher approach (lecture then test) did not work, and results varied professor to professor. That's when it developed the patent-pending Cycles to Mastery® teaching method.  
The certification programs, these are submitted to a human grader who provides feedback.  Students adjust and submit till approved.  No test needed.  That's what we mean by Cycles to Mastery.
On campus the courses are taught under the "Innovation Engineering" brand.  For consumers and businesses, it's available as professional development under the Jump Start Your Brain® (JSYB) brand.  
It's making it easier for everyone across the company from the front lines to CEO to learn and apply innovation skills.  We have 100s of micro-lessons, tools, badge courses, and certifications that can be customized and plugged into an LMS or accessed through our platform.
Each student will now have a chance during their course of study to secure a patent on a new product or process he or she creates through the Innovative Engineering Lab!
The program teaches students to think strategically and to raise questions that must be considered for businesses to thrive in today's rapidly changing business world. Dr. Borah posed this important issue that businesses must face: "Whatever a company is doing today will be questionable in five years and will most likely be irrelevant in 10 years".
By using an innovation mind set, questioning everything and researching creative and new ideas, students will have tools to address complex business problems.