Scientists have developed an "intelligent knife" that can tell surgeons immediately whether the tissue they are cutting is cancerous or not.
In the first study to test the invention in the operating theatre, the "iKnife" diagnosed tissue samples from 91 patients with 100 per cent accuracy, instantly providing information that normally takes up to half an hour to reveal using laboratory tests.
The findings, by researchers at Imperial College London, are published today in the journal Science Translational Medicine. The study was funded by the National Institute for Health Research (NIHR) Imperial Biomedical Research Centre, the European Research Council and the Hungarian National Office for Research and Technology.
'Intelligent Knife' Uses Desorption Electrospray Ionization and Rapid Evaporative Ionization MS for the rapid profiling of pathogens in human biofluid or tissue matrices
In cancers involving solid tumours, removal of the cancer in surgery is generally the best hope for treatment. The surgeon normally takes out the tumour with a margin of healthy tissue. However, it is often impossible to tell by sight which tissue is cancerous. One in five breast cancer patients who have surgery require a second operation to fully remove the cancer. In cases of uncertainty, the removed tissue is sent to a lab for examination while the patient remains under general anaesthetic.
The iKnife is based on electrosurgery, a technology invented in the 1920s that is commonly used today. Electrosurgical knives use an electrical current to rapidly heat tissue, cutting through it while minimising blood loss. In doing so, they vaporise the tissue, creating smoke that is normally sucked away by extraction systems.
The iKnife, developed by Dr. Zoltan Takats of Imperial College London.
The main profile of Dr. Zoltan's research group is the development of analytical technologies for the direct chemical investigation of biological systems, primarily using mass spectrometry. Our technology platforms include imaging mass spectrometry and various interventional mass spectrometric tools enabling real-time, in-situ (often in-vivo) medical diagnostics, as it was exemplified by the recently developed intelligent surgical device, commonly known as "iKnife".
Mass spectrometry has been used for the characterization or identification of bacterial cells for more than 40 years, but the technology hasn't received general acceptance until the introduction of Matrix-assisted Laser Desorption Ionization (MALDI) as a routine identification method in clinical microbiology. However, MALDI has still left a number of problems unresolved, including the rapid phenotyping, antibiotic resistance profiling of individual strains or culturing-free direct identification of bacteria in biological fluids. Our research focuses on providing solutions for these problems by using Desorption Electrospray Ionization and Rapid Evaporative Ionization MS for the rapid profiling of pathogens in human biofluid or tissue matrices. The current approaches already allow the identification of bacteria at strain level, detection of pathogens in tissue environment and there are promising results regarding rapid antibiotic resistance profiling.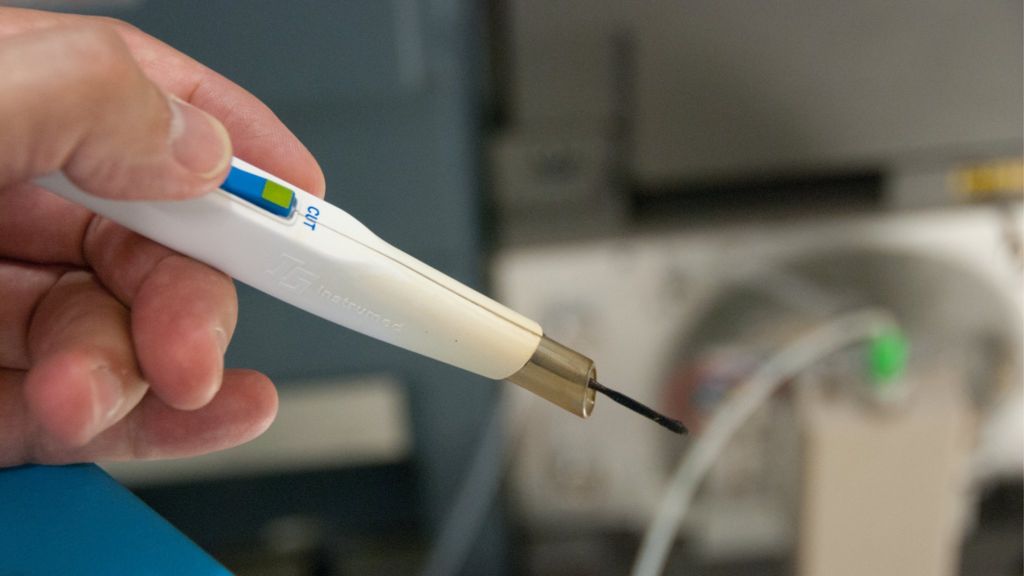 http://www.imperial.ac.uk/