Using JamKazam, you can now play music with other musicians from your homes across the Internet as if you were sitting in the same room. You can record your performances at the track level, share your recordings, and even broadcast your live sessions to family, friends, and fans.
Basically, JamKazam takes the music you play that is captured into your computer – either by a device you already use for recording or by your computer's built-in mic and headphones – and then uses an ultra-low latency encoder to stream your music to each of the other musicians in your session – and vice versa. Your own music stream is mixed together with all the incoming streams into a master output that you hear in your headphones. This all happens so fast that it sounds like you are sitting in the same room together. You can also voice chat with each other at the same time to communicate and collaborate.
Major research universities have conducted various studies that indicate that as long as you can keep latency down to 25 milliseconds or less, musicians can play pretty much any music together, stay in sync, and have a great experience. Even above 25 milliseconds, many musicians can play a variety of music enjoyably – especially pieces with a slower tempo or pieces that require less precision. Many audio interfaces when combined with JamKazam will deliver 10 to 15ms of round trip audio processing latency to capture, encode, decode, and play music – basically everything but Internet latency. So with one-way Internet latency of 15ms or less, you can play pretty much anything. This equates to a ping time of 30ms between computers. A cross-country ping can be as low as about 75ms, so you can play with musicians pretty far away, as long as you don't suffer from an irrational route path by your ISP that, for example, sends your packets from Austin to Atlanta to Dallas – like a really bad connecting flight plan.
JAMKAZAM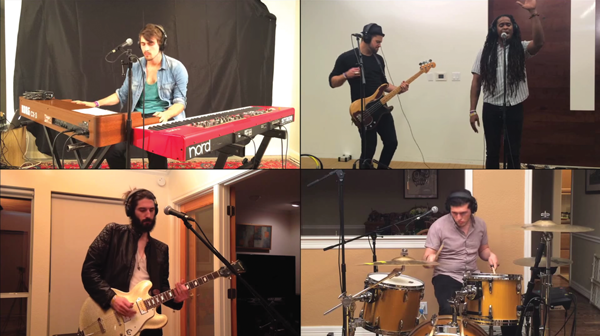 Play music live and in sync with others from different locations
Rehearse without travel or space
Co-write and produce music live
Join open sessions to jam with others
Record and live broadcast sessions
Connect with other musicians and bands
JAMTRACKS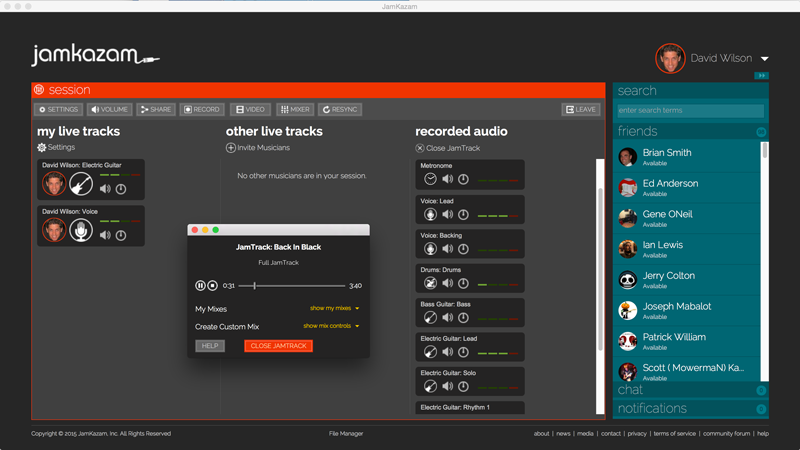 The best way to learn and play with your favorite songs
Choose your favorites from 4,000+ songs
Complete multitracks, solo or mute any part(s)
Slow down playback to practice
Change pitch up or down
Save custom mixes to use anywhere
Make and share audio and/or video recordings
Enabling musicians to play live in sync with high quality audio from different locations over the Internet is a major undertaking. There are serious technological challenges to achieving this goal. JamKazam started down the road to make this possible by building applications and Internet services that would work with computers and audio interfaces that musicians already own today. This makes sense as a place to start, as it doesn't cost anything for musicians to start using the service to play together.
However, in the process of building the service and learning more about the landscape, team discovered that traditional audio interfaces combined with computers running the general purpose Windows and OS X operating systems process audio very slowly. We found that the average amount of time it takes just to process the audio through a computer and interface is about 14 milliseconds, which eats up close to half of the amount of latency musicians can absorb while still playing live in sync comfortably. We also found that computers and audio interfaces cumulatively represent a Tower of Babel, with many opportunities for incompatibilities, confusion, and errors when setting up gear. And finally, we noticed that younger musicians often don't even own a Mac or Windows computer, and instead are using smartphones and/or tablets exclusively.
JamBlaster :
The JamBlaster processes audio (full round trip, including analog-to-digital and digital-to-analog, plus all other processing required) in just 2.8 milliseconds, a massive latency savings compared to the 14 millisecond average. This largely leaves just Internet latency to deal with.
The JamBlaster is plug-and-play easy to use. Plug you instruments and/or microphones into the JamBlaster, and connect the JamBlaster to your network.
The JamBlaster is post PC world ready, as you can use the JamBlaster with a smartphone or a tablet or a computer.
https://jamkazam.desk.com/