Tinke is an optical lifestyle sensor that measures your fitness and wellness. Fitness: By taking a vita measurement, Tinke measures 3 parameters (blood oxygen levels, respiratory rate, heart rate) and indicates your fitness level in 30 seconds.
A culmination of personal health in digital format, TINKÉ combines the hardware and software systems to determine vital signs from your body. At a touch of your finger, TINKÉ measures Oxygen Levels in your Blood (SpO2), Rate of Respiration (RR) as well as for your Heart Rate (HR).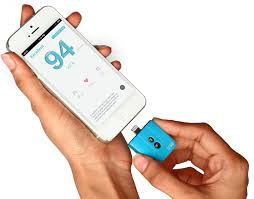 The information collected from your finger is skilfully correlated to provide a baseline score known as Vita Index™. Your Vita Index allows you to monitor your results easily (by just remembering one number) and to share your information without revealing actual values of your SpO2, RR and HR.
TINKÉ revolves around optical signals of blood volume changes known as Photoplethysmography (PPG). By means of advanced signal processing methods, algorithms were derived to handle exposure to ambient light, monitor the required pressure prior to the analysis of Blood Oxygen levels, Respiratory Rate and Heart Rate.
https://youtu.be/sLym1M6YIUQ
Basics
The principle behind photoplethysmography (PPG) sensors is optical detection of blood volume changes in the microvascular bed of the tissue. The changes in light intensity are associated with small variations in blood perfusion of the tissue and this provides information on the cardiovascular system.
The PPG pulse is commonly divided into two main components: a forward moving wave and a reflected wave. The forward wave occurs each time the heart contracts during a systole, which sends blood to the rest of your body. In a healthy person, the reflected wave returns and gives a notch in the diastolic phase. As your heart pumps, blood flows from the heart to all parts of the body. The rate at which the reflected wave returns is important – the stiffer the arteries are, the faster it returns.
Optical Design
Our product vision is simple: the product we create must fit into our consumers' lifestyles. Its form must be small, yet innovative. It is for this reason that we deliberately steered away from traditional transmission technologies, looking to reflective technologies to realize our product vision.
For spot monitoring, the non-covered reflectance mode PPG sensor system of Zensorium's Tinke consists of a light source and a detector, with red and infrared (IR) light-emitting diodes (LEDs). The iconic duo openings representative of the light source and light detector was developed then carried as the product identity of Tinké.
For continuous monitoring, the wearable sensor system of Zensorium's Being uses green LEDs as it provides stronger PPG signals required due to a change of measuring location, from the fingertip to the wrist. Our arrangement of detectors and LED differs from our competitors due to proprietary algorithms.
Noisy Signal
Cleaned Signal
Biosensing
Digital signal processing (DSP) algorithms for noise and artifact reduction have been used in many applications. Biosensing uses these techniques more often today since the data recorded is often corrupted by environmental noise sources, from undesirable physiological sources, or due to unreliable and unstable sensor-tissue interface while doing the measurement.
To ensure accurate measurements, both Tinké and Being are packed with a data acquisition studio and a comprehensive set of signal processing algorithms to treat the signals including background noises, ambient light and motion artifacts.
For Zensorium's Being in particular, we have also included motion sensors to measure position, motion, tilt, and vibration for three-dimensional sensing. Using a combination of the accelerometer and PPG sensors, motion artifacts are reduced with proprietary algorithms to provide a better reading for resting, walking and running activities.
PPG
Photoplethysmography has been applied in many different settings, including clinical physiological monitoring, vascular assessment and autonomic function. At Zensorium, we've applied our expertise to extract 6 varied categories:
Vita Index
Vita Index analyzes your Heart Rate, Respiratory, Blood Oxygen Levels in 30 seconds together with your Age and Gender to determine your cardio-fitness levels.
Zen Index
Zen Index analyzes your Heart Rate Variability and relevant information in 60 seconds to determine your stress level after a guided breathing session.
Mood Map
Mood Map differentiate good stress from bad stress by analyzing the amount of energy from your heart rate, changes in blood pressure and your emotions from your heart rate variability.
Sleep Habits
Sleep Habits analyzes your sleep efficiency and sleep quality defined as the percentage of time spent asleep, and the stages of your sleep in NREM, REM and Awake, respectively.
Continuous Heart Rate
Continuous Heart Rate tracks your heart rate, steps, distance and speed accurately while you are in motion without a conventional chest strap
The world's only sensor that tracks your Heart Rate, Respiratory Rate, Blood Oxygen Saturation and Heart Rate Variability to determine your fitness and stress levels with just a touch of your finger.

Monitor and chart your daily measurements to know your progress or send your measurements to your coach or trainer for better guidance.

Log personal notes on your measurements, or share your fitness and stress results with friends and family within the Tinké network or on Facebook and Twitter.

Earn badges and points when you consistently monitor your fitness and wellness to keep you motivated.

Compatible with smart devices running Android 4.3 or later.