Smart mattress cover, Luna adjusts your bed's temperatures, tracks your sleep patterns, and connects to home devices.
Luna functions as heating pad. It's dual-zone, meaning you can crank it up to 83 degrees Fahrenheit, while your bedmate stays 10 degrees cooler. But it's not like a traditional heating pad, Bassi insists. Once the bed gets up to your preferred temperature —which it learns over time, like the smart thermostat Nest— the bed is basically self-sustaining at that temperature. "It's off 95 percent of the time," says Bassi, only delivering a few bursts of heat throughout the night to keep your toes toasty and using only a low voltage to do so.
It's embedded with sensors to detect breathing and heart rate, accelerometers to track sleep patterns and microphones to hear your snoring. The cover then sends data to an Android or iOS app and adjusts temperatures accordingly, depending on your preference. Yep, it heats up or cools down to make you feel comfortable, and it can supposedly even maintain different temperatures on each side of the bed.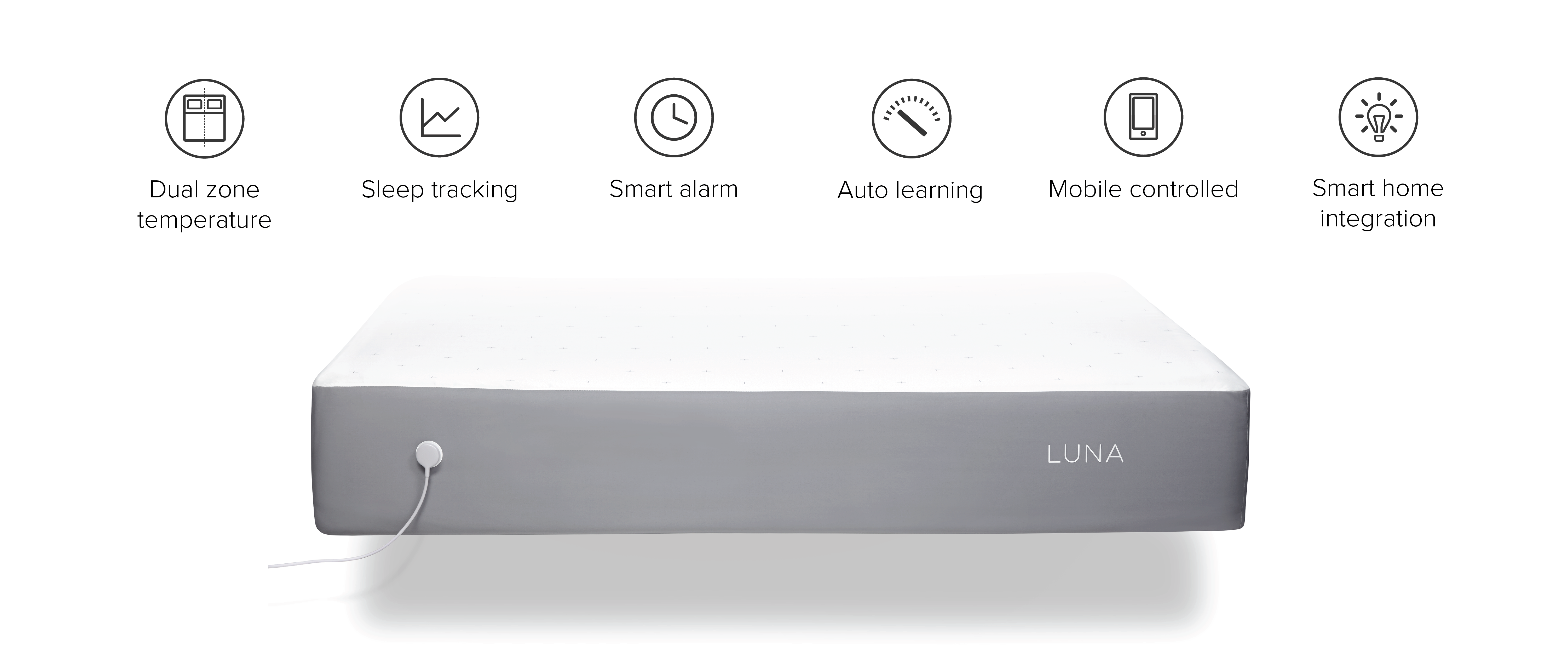 Even better, since it's open source, you can make it work with the rest of a connected home, assuming you've been replacing your fixtures and furniture with their internet-connected counterparts. Luna can integrate with Nest, and you can also program it so that your smart door lock activates when you get into bed, or so that the coffeemaker starts brewing as soon as you wake up.
Luna Smart Mattress Pad AppThe Luna's ability to learn is only one feature of the pad, though. It tracks your sleep with accelerometers, a snoring-sensitive microphone, and sensors that to measure breath frequency and heart rate. Right now, Luna is partnered with Lockitron, Beep, Emberlight, and Nest, so when you get into bed, the pad will sync with your smart door lock, lights, and thermostat to secure the house and get it ready for the night.
That's just the beginning, though. Bassi wants the Luna to integrate even more fully with your home and health. If you sleep better one night, for example, it might figure out that working out at a particular time had a positive impact. Because the Luna can figure out exactly when you enter different phases of sleep, it should eventually be able to pause your Netflix stream right when you fall asleep.