MST is a new patented pasteurization technique. Employing a unique combination of low heat and low pressure it achieves a highly efficient reduction of microorganisms in liquid products and is applicable both to liquid foods and pharmaceutical products and substances.
MST preserves nutrients, minerals, vitamins, and protein, while maintaining the natural flavor of the product being processed.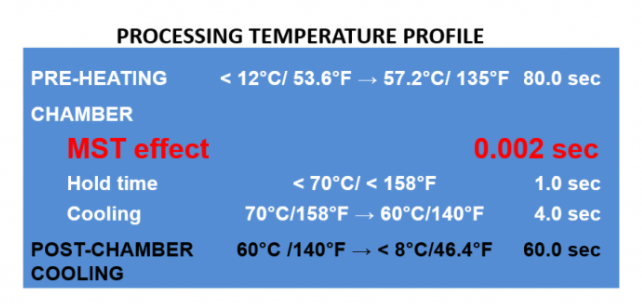 HOW MST WORKS
The MST process suppresses or eliminates microorganisms' vital functions.
The product is pumped into the MST chamber under pressure, dispersing into small droplets via spray nozzle.
The droplets are formed at speed of 10 m/sec and propelled into the MST Chamber.
The microorganisms inside the droplets undergo shock from instantaneous pressure drop and temperature increase, unprotected by the fact that they have no surrounding liquid to absorb the shock, leaving them unable to survive the shock.
The product droplets then return to a liquid stream at the discharge of the MST Chamber. Since this all happens at temperatures below PMO requirements for Fresh Milk, the milk is then further heated to PMO and held in the normal HTST Hold Tube, so that the product is completely compliant with USA Interstate Milk Shippers PMO requirements for Grade A Fresh Milk.

The manufacturing and distribution dynamics of the fluid milk industry are constantly impacted by the primary concern of prolonging shelf-life and improving safety. The process of heating milk for a predetermined time at a predetermined temperature (i.e. pasteurization) is aimed at reducing microbial load and addressing the previous issues (Nada et al. 2012). Unfortunately, many characteristics of the pasteurization process are neither effectively robust nor cost effective. Currently, the shelf-life of unopened, pasteurized milk is 8–14 days depending on the intensity of the treatment (Niamsuwan et al. 2011), and the process itself consumes a significant amount of energy. Together, with rising fuel costs, the industrial sector must find solutions to minimize energy and fuel consumption in order to cut expenditures and reduce their carbon footprint.
Thermal processing, such as pasteurization, has been the standard method to extend the shelf-life of dairy products. These high temperatures (70–120 °C) can damage and/or cause structural modifications to proteins within the product, leading to noticeable changes in sensorial characteristics (Siciliano et al. 2000). Lowering the thermal threshold, while still achieving adequate microorganism reduction, would be an advantageous scenario; reducing energy use/costs and increasing the overall quality of the product. Such treatments exist, such as low temperature long-time (LTLT) pasteurization, or Holder pasteurization. However, these treatments have been shown to degrade and damage many biochemical components, such as vitamins: C, folacin, and B6 (Van Zoeren-Grobben et al. 1987; Moltó-Puigmartí et al. 2011). High-pressure processing (HPP) is utilized as an alternative to thermal treatment, but proteins, enzymes, polysaccharides and nucleic acids have also been shown to be adversely affected (Balci and Wilbey 1999).
A viable process would reduce costs and energy input, improve the quality of the product, and maintain or improve microorganism reduction potential. Such benefits would have a tremendous impact on the industry, including: increased cost effectiveness, higher quality product, and increased distribution distances. Increased shelf-life would also allow for a decrease in distribution locations; distribution from a few locations, rather than hundreds.
CURRENT STATUS OF MST TODAY
63 U.S. and international patents and patent filings.
Complies with U.S. Federal Regulations, PMO, IMSC FOR TREATING RAW MILK if integrated with HTST FDA Federal Registry.
Grade A Standards.
3A Sanitary Standards.
Pasteurized Milk Ordinance (PMO).
USDA.
ISMSC (Interstate Milk Shippers Convention).
Tests confirmed 8 Log kill rate with no negative biological interactions.
The Ohio Department of Agriculture has cleared MST as an integral part of an HTST pasteurizer allowing the commercial sale of milk nationwide, which has begun in the Midwest dairy where the first large scale unit is currently operating.
The FDA has approved installing an MST in a Major Dairy Processing Plant in Puerto Rico, for Grade A "ESL Fresh" production.
Currently, we combine MST with HTST (in standard or ESL packaging) to produce a superior product with all the same benefits.
FDA has informed MSTC that they can install an MST unit on a Grade A Dairy Farm to test and validate the performance on Raw Milk Stabilization.
We are beginning the process to approve MST as an accepted stand-alone alternative pasteurization method.
LTST bacterial reduction
The LTST method depends on a mechanism in which low heat and low pressure are utilized to pasteurize a fluid milk product (Arofikin 2010). In this process, milk is dispersed in the form of droplets into a process chamber and heated for 0.02 s at or below pasteurization temperatures (≤72.7 °C). The MST chamber schematic and image are depicted in Fig. 1.