Left your phone behind? You can always stay in touch with the LG Watch Sport™ on your wrist. This standalone smartwatch stays connected to your smartphone, no matter where it is, even if it's off.* Send and receive calls and texts. Stream music from Google Play™ Music. Monitor your heart rate and track your progress. Download apps easily, and customize the display with your important info. The LG Watch Sport is available in Titanium
Google and LG have teamed up to create a pair of smartwatches, the LG Watch Sport and LG Watch Style, as the flagship Android Wear 2.0 devices.
LTE gives it independent access to the Internet, so messages and notifications arrive no matter where you are. NFC makes this the first watch to support Android Pay, so you can walk into a store without a smartphone or wallet, tap on the terminal, and be on your way. GPS means you can leave the house and still have access to Google Maps and run tracking, and with a pair of Bluetooth headphones, you can bring some music along on your jog.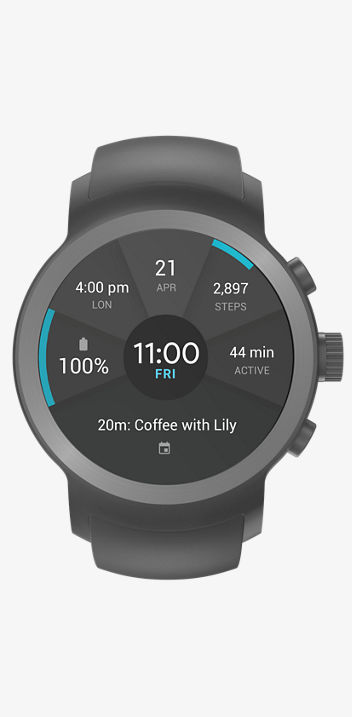 There's a ton of new software, too. Android Wear 2.0 has seen a top-to-bottom overhaul with an all-new UI and a new app development strategy that starts with an on-watch Google Play app store. It has the Google Assistant, a revamp of Google Fit, and a tiny QWERTY keyboard.
Track your running, count your reps, and more with Google Fit. Analyze your running and cycling stats with Strava. You can even stream your favorite tunes and monitor your heart rate.
LG Watch Sport has the Google Assistant⁴ built in. Find answers and get things done — even when your hands are full. Reply to a friend when you're running late, remind yourself to call mom when you get home, or navigate to work. Just start by saying, "Ok Google" or hold the power button.