Origin's WiFi Sensing™ technology and custom applications transform smart devices into virtual sensors for a true intelligent home ecosystem — transforming the way we work, play, and keep our homes and loved ones safe.
Origin turns WiFi signals into WiFi Sensing that can help detect – Fall detection, Activity insights, Sleep insights, Wander detection
Origin's WiFi Sensing technology can detect even the most minor movements and rapid shifts in motion, making it incredibly valuable in the health space. When applied to health monitoring, the technology can alert caregivers to anomalies in motion, which has the potential to save lives.
WiFi Sensing can monitor entire homes, providing caregivers with detailed activity, sleep, and breathing insights, and can detect falls. The technology eliminates the need for wearables inside the home, which can have low adherence rates, and protects patient privacy by removing the need for cameras. This makes aging-in-place more viable than ever before.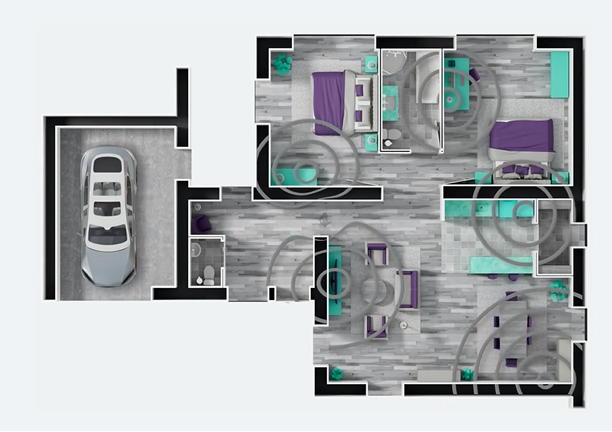 In 2022, to advance its use in the health environment, Origin will partner with a leading medical alert system for elder care. By combining Origin's WiFi Sensing capabilities with the partner's data and machine learning, the collaborative solution will provide peace of mind for caregivers and empower elderly loved ones to live more autonomously. Origin also plans to partner with a remote patient monitoring company to enhance their cutting-edge remote patient monitoring and personal safety technologies through WiFi Sensing.
The health applications of WiFi Sensing are expected to expand rapidly in the near future, moving beyond at-home use to clinical settings and care facilities. In addition, the technology will likely soon be used outside of elder care to monitor patients within broader healthcare environments.
In Our Homes: Home Automation and Security
Origin's technology allows existing devices in their home to perform key services like home automation and security without adding additional hardware. Because of this, WiFi Sensing has enormous potential in the DIY home security space. Homeowners can set up home protection in a matter of minutes and avoid the privacy violations that can come with camera-based security solutions.
In addition to security, WiFi Sensing can be used to automate home systems and devices, turning on lights and adjusting the thermostat when human presence is detected, and automatically locking doors when monitoring confirms that no one is home. In 2022, Origin's WiFi Sensing technology will be integrated across a large smart lighting product portfolio. Through this integration, WiFi Sensing will make its way into people's homes, meeting consumer needs around the world.
Integration with home automation and security technologies will be made even easier with Origin's recently-announced partnership with nami. Together, the two leaders in AIoT innovations will offer enterprise customers a turnkey, "grab-and-go" WiFi Sensing platform that requires no testing, designing or developing. Dubbed the 'NOW Platform', the joint solution will enable customers to go to market with a WiFi Sensing-enabled solution quickly. This collaboration will help Origin achieve its goal of widening WiFi Sensing's capabilities.
In Our Buildings: Property Tech
Those who live and work in large buildings could soon benefit greatly from the integration of WiFi Sensing technology into their building's systems. WiFi Sensing offers an innovative security solution for property managers that could bring peace of mind and protection to apartment-dwellers everywhere. When used for lighting and HVAC system automation, WiFi Sensing has the potential to cut down significantly on energy use and energy costs.
In Our Cars: Automotive
When children are left in the backs of cars, especially during hot months, it can be extremely dangerous, leading to death in some cases. On average, 38 children die each year from vehicular heatstroke. WiFi Sensing technology has the potential to help with this serious problem by accurately alerting car owners when a child is detected alone in a vehicle. The automotive industry is working to adopt this technology on a broader scale. According to UnivDatos Market Insights, the Child Presence Detection market is expected to grow to $390.3 million by 2025.
Our Vision: Everywhere
We picture a world where WiFi Sensing technology is used everywhere, bringing convenience, safety and protection through broad use across industries. The enthusiasm we've already received from technical leaders in vastly different industries indicates that our vision is primed to become a reality.
What Is the 802.11bf WiFi Sensing Project? A Peek Inside Setting the Standard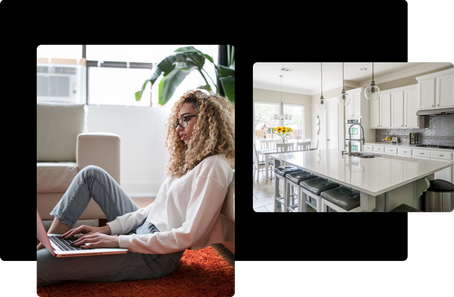 Whether we realize it or not, WiFi influences our everyday lives: the way we work, the way our devices operate, and the way the world stays connected. In turn, the WiFi standards, set and maintained by the Institute of Electrical and Electronics Engineers (IEEE), can make a significant impact on our technological future. These standards dictate the capabilities of WiFi-enabled products, driving the market.
Dr. Ray Liu, Origin's Founder and CEO, is a leading innovator in WiFi Sensing. His ideas and inventions have revolutionized the way technology companies think about WiFi and what it can do. He was the first who envisioned the need of creating an international standard for wireless sensing. His Origin team has been a key member of the standard committee working on the IEEE 802.11bf Wireless Sensing Project, creating the next set of WiFi standards.
To shine a light on the project, we sat down with Dr. Ray Liu for a Q&A. His answers allow us to peek behind the curtain and understand the exciting potential of Wireless Sensing.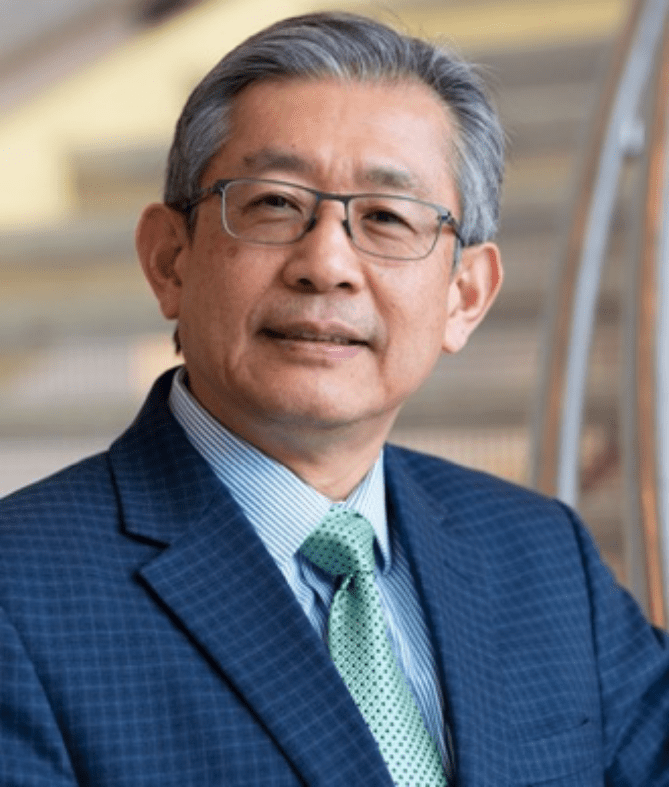 What is IEEE 802.11bf?
802.11bf enables a WiFi device to be turned into a quiet sensor, adding a brand new dimension to the functions, capabilities, and applications of all WiFi systems. The pre-competitive 802.11bf technology (meaning the technology resulting from research conducted cooperatively by competing companies) uses WiFi wireless signals to perform sensing measurements, making the low-level sensing data available to upper-level applications/software (e.g., Origin software).
This data is then processed via machine learning or artificial intelligence to achieve advanced WiFi sensing to analyze and interpret object movements. These new sensing functionalities can benefit the global WiFi ecosystem including integrated circuit manufacturers, device manufacturers, system integrators, application developers, and ultimately end users.
Why is the standardization of 802.11bf important?
While no company will share its competitive trade secrets, there are certain results or experiences that can be shared after filing for patent protection. This information sharing can help develop the market and can be very useful for the standardization of technology.
Origin and other companies contribute pre-competitive technologies and know-how to establish a global standard called 802.11bf, formally called WLAN Sensing, which is backward compatible with existing and soon-to-appear WiFi devices.
Standardization is important because it enables compatibility and interoperability. Standard-compliant devices, though made by different vendors, can still work together. To ensure compatibility, market relevance, and high performance, interested parties from the industry send their technical experts to join a standard body (e.g. IEEE 802.11) to establish the standard. The operation rules of the standard body ensure that the standard is established in a fair, open, effective, efficient, and timely manner.
What does your involvement with the IEEE 802.11bf Wireless Sensing Project entail?
Our team at Origin has been involved with the IEEE 802.11bf Wireless Sensing Project from the beginning (2019) to promote, advocate, monitor, and shape the development of WiFi Sensing in the context of the IEEE 802.11 standard, making key technical contributions.
We attended the early brainstorming sessions and strongly advocated for the potential value, feasibility, and use cases of WiFi Sensing. Working together with like-minded experts in the industry, we prepared the required paperwork and procedures to form the WLAN Sensing Technical Interest Group (TIG) in September 2019, then the WLAN Sensing Study Group (SG) in November 2019, and then a WLAN Sensing Task Group (TG) in March 2020. We worked intensely on the Project Authorization Request (PAR) and Criteria for Standards Development (CSD) of 802.11bf. In September 2020, the CSD and PAR were formally approved, the 802.11bf Task Group was established, and its work began.
Many technical proposals have been presented and vetted. Many straw polls and motions have been voted upon. We are seeking to produce the first draft of the 802.11bf standards (Draft 0.1) in January 2022, the second draft (Draft 1.0) in July 2022, the third draft (Draft 2.0) in January 2023, and the final standard in September 2024. What has your experience working on the project been like?
Our team is excited to witness the birth of a WiFi standard and to be on the front lines, helping to shape its components. It is a great learning experience for them to work with a diverse spectrum of experts and fellow industry leaders. It is amazing to see competitors in the business world cooperate to make the standard work, while leaving room for competition and differentiations after the standard is established. We found the work to be incredibly rewarding, and are grateful for the opportunity to collaborate with other top researchers/engineers in a friendly, pre-competitive atmosphere.
What 802.11bf milestones are you most proud of?
Our team is most proud of elevating Origin's presence and promoting WiFi Sensing in the greater WiFi community. By now, other 802.11 participants are aware of Origin, our pioneering research, and our commercial WiFi Sensing products – all of which prove the feasibility and limitless potential of WiFi Sensing to transform our everyday lives.
What WiFi Sensing applications are most exciting to you?
Our team is most excited about WiFi Sensing applications within the health category.
Origin's technology can amazingly capture tiny, vital movements of human breathing, even when people are not in the line-of-sight of a device. WiFi Sensing can also detect the forceful and dangerous motion of falls with very high accuracy.
This is a true innovation for caregivers and the aging in place community. Elderly loved ones want to continue to live in their current homes. Their children and caregivers respect their choices but are concerned about their safety and well-being when they are on their own. While some wearable gadgets claim to detect falls, our aging loved ones often forget to wear them or find them too troublesome to wear, especially during bathing when dangerous falls are most likely to occur.
Origin's technology offers another layer of protection with whole home coverage to detect falls, breathing rates, abnormal behaviors, and alert caregivers of these activities. Detecting these abnormal behaviors can have lifesaving and injury-reducing potential and may even prevent tragedies from happening. With WiFi Sensing technology, everyone can gain peace of mind.
Stay Tuned
In the years ahead, we will begin to see WiFi Sensing technology integrated into more devices, with more impactful, influential applications that will improve our lives for the better. We are proud that Dr. Ray Liu was elected to serve as 2022 IEEE President. Not only will he be leading Origin but also leading IEEE to mobilize the industry and interested parties to spearhead the broader WiFi Ecosystem towards 802.11bf standardization.
Courtesy: https://www.originwirelessai.com/