The virtual cashier is a SaaS technology platform helps restaurant & other industries provide live virtual agent at a fraction of cost.
Unlike a kiosk or a pre-ordering app, which removes human jobs entirely, Percy allows for the face-to-face customer experience, that restaurant owners and operators want to provide their guests, by mobilizing a global and eager workforce.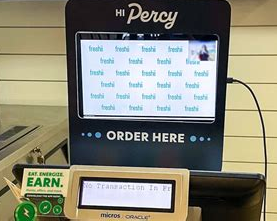 User experience is at par to LIVE over the counter agent. Interactions with users are LIVE and interactive. This SAAS service allow to scale quickly but also provide the one to one interaction.
It's not about replacing people or jobs. It isn't about lower pay or working conditions. It's about a labor shortage across the restaurant industry. Most restaurants in North America offer rewarding jobs that pay above minimum wage. But young people, the backbone of retail, are unable to play the flexible role in the workforce today, due to more options and daunting financial pressures.
Percy's global workforce currently has employees in several countries, including Canada, and will continue to hire qualified talent in any city, state or country, catering to the market's needs. We pay all team members above their local minimum wage.