Satlas is a platform for visualizing and downloading global geospatial data products generated by AI using satellite images. Currently, it includes three types of data: marine infrastructure (offshore wind turbines and platforms), renewable energy infrastructure (onshore wind turbines and solar farms), and tree cover, but we hope to include many more over time.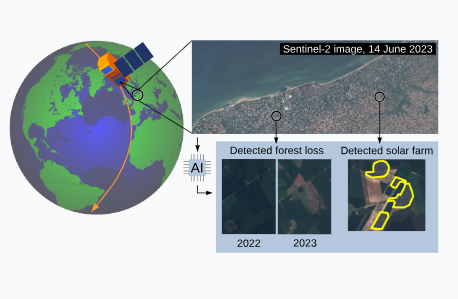 All of the data displayed in Satlas, along with training data and model weights, can be downloaded for offline analysis here. Data is available as monthly maps starting from January 2016. Marine infrastructure and renewable energy infrastructure are published as one GeoJSON for each month, and tree cover is published as a set of GeoTIFFs for each month.
Satlas combines the power of modern AI with the scale of public domain satellite imagery to provide monthly monitoring of the planet.
AI models in Satlas process freely available satellite images captured by the European Space Agency's Sentinel-2 satellites. These images cover the majority of the planet every week, but are low in resolution, making them difficult to interpret even for humans.
It leverages the latest advances in AI to robustly process images in this challenging domain and produce a variety of geospatial data products that we make freely available.
SatlasPretrain
Our AI models are pre-trained on a new large-scale remote sensing dataset called SatlasPretrain. This vast dataset contains over 30 TB of imagery with 302 million labels spanning 137 diverse categories, from tree cover and crop fields to wind farms and oil wells. Pre-training on SatlasPretrain teaches AI models to understand geographically and seasonally diverse satellite images.
Other websites include:
https://arxiv.org/abs/2211.15660