Floating solar panels, also known as floating photovoltaic (FPV) or photovoltaics, are solar panels mounted on structures that float on bodies of water like water reservoirs, aqua farms, and any human-made water bodies.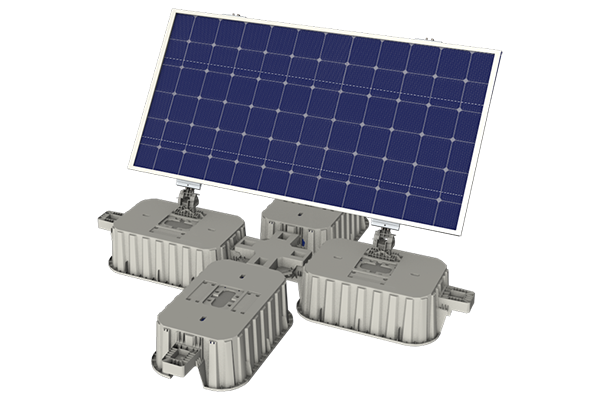 Floating solar panel structure shades the body of water and reduces evaporation from these ponds, reservoirs, and lakes. This is a particularly useful benefit in areas susceptible to drought, as water loss to evaporation can add up over time and contribute to a shortage.
A floating solar panel plant consists of the solar module, anti-rust material, vertical and horizontal frames, buoyancy body, inspection footrest, and module mount assembly. The solar module needs to be highly humidity resistant, dustproof, lead-free, and well protected from the effects of water. The buoyancy is made from polyethylene.

Developed by SOLARISFLOAT, PROTEVS is a unique project in the world that will certainly bring new challenges for the environment, economy and the solar photovoltaic industry.
Made of modular floating platforms with tracking capabilities, this floating photovolta¬ic solar system is a modular, detachable, scalable, reliable solution, with an easy installation process.
To keep and prevent early aging and the impact of weather conditions, the thermoplastics materials, specifically developed for PROTEVS, have a high impact resistance and very high resistance to UV, to guarantee the best performance of the product life cycle.
Only due to the extension of the reservoir area of the existing dams it is possible, within 2/3 years, to meet all immediate power generation needs in most countries where there is an increase in electricity consumption.
PROTEVS +
Unique solution with 2 axis tracking that aims to have the maximum of output capacity in comparison the installed power.
Floating island composed of 180 PV modules, with Two axis tracking
73 kWp of installed capacity ( with 370 wp modules)
Vertical movement is executed individually for each photovoltaic module (allowing an elevation from 0 º to 45 º angle)
Provides an increase in energy production up to 40%
Estimate of energy consumption less than 0,5%
Island with 38 meter of diameter (occupied area of 1 444 sm)
Water cooled air ensures lower panel temperatures increasing
production up to 15%
PROTEVS SINGLE360
Specific solution with 1 axis tracking that aims to have the best balance between the occupied area and output power.
Floating island composed of 360 PV modules, with one axis tracking
147 kWp of installed capacity ( with 410 wp modules)
PV module presents a fixed slope with 10º (than can be ajusted according to the project design)
Provides an increase in energy production up to 30%
Estimate of energy consumption less than 0,5%
Water cooled air ensures lower panel temperatures increasing production up to 15%
Estimate of energy consumption less than 0,5%