TCL's latest 65-inch OLED TV is the world's largest flexible OLED foldable screen using inkjet printing technology, and is the first model at this size with 8K resolution and a 120Hz refresh rate.
It uses – ultra-high-precision" inkjet printing technology.
Ultra-high Precision Inkjet Printing Technology for display manufacturing uses method such as PI alignment layer coating, liquid crystal coating, micro lens for back light, black bezel.
The conventional printing accuracy of the inkjet technology was mentioned around ± 10 to 15 µm depending upon the printing condition. Now the advanced inkjet technology, which is mainly MEMS head technology and head control method, has been applied for more accurate, uniform and reliable printing than before. So the printing accuracy of the new inkjet technology has achieved up to 2 µm micro lens gap for micro lens array without any specific micro lens position zone defining treatment. This kind of micro lens array can improve the light extraction from the OLED lighting and display panel. Based on this printing accuracy, it can be possible for RGB pixel printing to achieve over 500 ppi (pixel per inch) with the well prepared PDL (Pixel Defining Layer) pattern.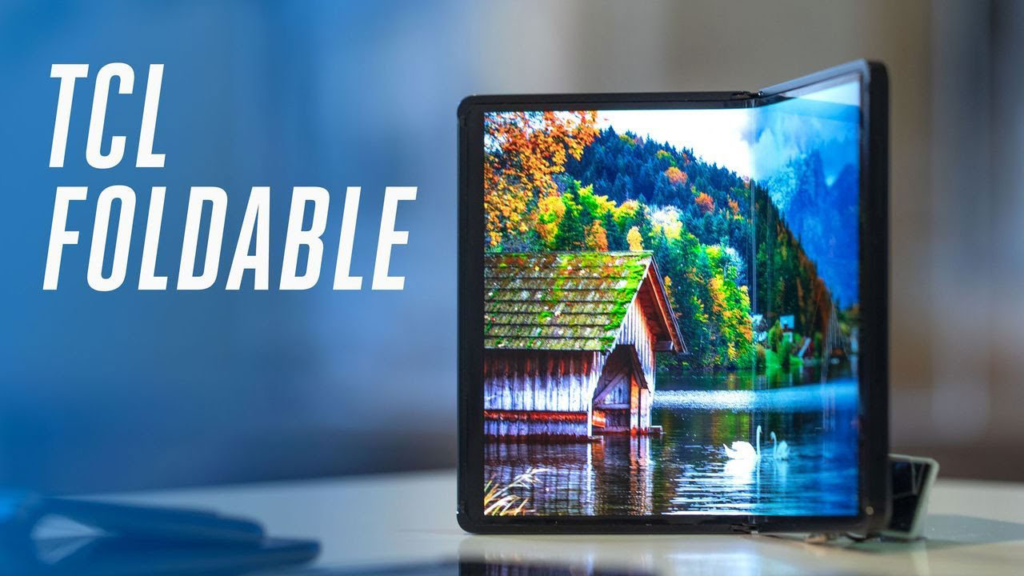 TCL also uses – IGZO (a type of semiconducting metal) TFT backplane technology.
Indium gallium zinc oxide (IGZO) is a semiconducting material, consisting of indium (In), gallium (Ga), zinc (Zn) and oxygen (O). IGZO thin-film transistors (TFT) are used in the TFT backplane of flat-panel displays (FPDs). IGZO-TFT was developed by Hideo Hosono's group at Tokyo Institute of Technology and Japan Science and Technology Agency (JST) (crystalline IGZO-TFT) and (amorphous IGZO-TFT).
IGZO-TFT has 20–50 times the electron mobility of amorphous silicon, which has often been used in liquid-crystal displays (LCDs) and e-papers. As a result, IGZO-TFT can improve the speed, resolution and size of flat-panel displays. It is currently used as the thin-film transistors for use in organic light-emitting diode (OLED) TV displays.
he current impediment to large-scale IGZO manufacturing is the synthesis method. The most widely used technique for Transparent Conducting Oxide (TCO) synthesis is Pulsed Laser Deposition(PLD).
In PLD, a laser is used to focus on nano-sized spots on solid elemental targets. Laser pulse frequencies are varied between the targets in ratios to control the composition of the film. IGZO can be deposited onto substrates such as quartz, single-crystal silicon, or even plastic due to its ability for low-temperature deposition. The substrates are placed in a PLD vacuum chamber, which controls oxygen pressure in order to ensure favorable electrical properties. After synthesis, the film is annealed, or gradually exposed to air to adjust to the atmosphere.
While PLD is a useful and versatile synthesis technique, it requires expensive equipment and plenty of time for each sample to adjust to regular atmospheric conditions. This is not ideal for industrial manufacturing.
TCL Press release –
TCL CSOT Introduces a Full Range of Breakthrough Display Innovations at SID Display Week 2023
New cutting-edge display products and technologies promise a reimagined future for the field of display technology
LOS ANGELES, May 23, 2023 /PRNewswire/ — TCL CSOT, a company focused on developing new technologies and innovations in the display industry, today unveiled over 30 of its latest products and advanced technologies, including more than ten firsts in the world, at Display Week 2023 organized by the Society for Information Display (SID), held from May 21 to 26 in Los Angeles, California.
Guided by the vision of "Display A Better Future For All", TCL CSOT showcases its expertise and capacity in providing complete display technology solutions across a range of sizes, categories, and forms – spanning IJP OLED, Mini LED, Micro LED, medical displays, vehicle-mounted displays, light field displays, as well as consumer electronics displays. Among them, six core exhibits include:
The world's first 65-inch 8K ink-jet printing flexible OLED display brings to the industry the largest flexible OLED foldable screen based on ink-jet printing technology to date with the highest resolution and a 120Hz refresh rate. The screen uses IGZO TFT backplane technology and ultra-high-precision ink-jet printing technology to present a smooth and intricate display of an astounding 33 million pixels per frame. Combining ultra-thin and high-strength flexible module materials, the product has a bending radius of less than R25mm and a bending life of up to 100,000 times.
The ultrawide 47.5″ curved pillar-to-pillar display extends continuously about 1.4m-wide from one A-pillar seamlessly to the next. The whole display area is equipped with in-cell touch sensing and can be operated by driver and co-driver simultaneously. With an integrated cluster, central control and passenger entertainment functions built into the 4,200R curved display, its utterly natural design merges stylishly with the interior, creating an immersive and futuristic experience. At 8K, this display boasts the highest resolution in the automotive industry. In addition, an AM Mini LED backlight with more than 3,000 local dimming zones and advanced control algorithms facilitates an improved user experience with increased image contrast and decreased energy consumption.
Blurring the line between virtual reality and the real world, the world's first mass-produced 1,512 PPI Mini LED VR display guarantees an immersive visual feast for gamers, movie-buffs, and the like. With a resolution of 2,280RGB x 2,280 and a pixel density of 1,512 PPI, the 2.1-inch display is currently the LCD screen with the highest pixel density in the world, effectively eliminating any screen-door effect and greatly improving the visual perception of VR products. Thanks to local dimming technology, it can achieve fine partition dimming with a contrast ratio of up to 100,000:1, bringing a more realistic and delicate picture, while a 120Hz refresh rate supports a smoother viewing experience.
The 2.1-inch 1,512 PPI LTPO-VR realRGB fast-LCD is TCL CSOT's latest LTPO VR display module with 4K resolution for both eyes and 1,512 PPI real-RGB. Its ultra-high pixel density further improves the experience of VR products. As the most extreme LCD display module in the industry, it eliminates the screen-door effect and vertigo common in VR systems. The graininess no longer exists, while the 3D image is more vivid and immersive than ever. Utilizing advanced LTPO panel design and flow, this product is enabled by major breakthroughs in transmittance, frame rate, border size, and power consumption.
Catering to the growing demand for ultra-wide e-sports screens, the world's first 57-inch 1,000R 8K high-end curved gaming display delivers a super wide perspective using a unique high-performance HVA screen. Boasting a resolution of DUHD 7,680 x 2,160, 1,000R curvature and 32:9 super wide display ratio, the player can experience a 3D depth of field perception and immersion that engages all senses. At the same time, the high refresh rate of 240Hz and fast response speed of 1ms offer a fluid gaming experience, ushering in a new era for e-sports as the world's first 8K e-sports-ready monitor with exceptional picture quality.
Driven by TCL CSOT's future-oriented vision, the world's first ultra-narrow OLED flexible display screen (also the world's first WQ_LTPO ultra-narrow AMOLED flexible product) presents an extra fine appearance with a four-sided 0.9mm Array Panel frame, a four-sided 1.6mm module frame, a 0.3mm O-cut Array Border and a 0.36mm module border. With 1,920Hz PWM dimming technology and a static frame as low as 1Hz, its overall power consumption is 15-20% lower than conventional products in the industry. Equipped with a 240Hz high touch report rate and TCL CSOT's latest C7 organic light emitting system, this product provides a more realistic color.
"This year's showcase of TCL CSOT's breakthrough products and technologies at SID Display Week exemplifies the hard work, tenacity, dedication, and talent of our R&D team from across the world. I'm excited for our customers and partners to experience our advanced offerings and technological achievements," said Jun Zhao, CEO of TCL CSOT. "Driven not only by a commitment to building a display industry ecosystem, but also to supporting a healthy and more sustainable planet for all through low-carbon, energy-saving, and eye-friendly products, we look forward to driving progress and uncovering more innovations to further accelerate the development of high-end display technology."
TCL CSOT (TCL China Star Optoelectronics Technology), established in 2009, is a company committed to developing new technologies and innovations in the display industry. TCL CSOT focuses on promoting the development of next-generation display technologies such as Mini LED, Micro LED, OLED, and ink-jet printing OLED to embrace the future technology trend. The company business includes large area displays, small medium displays, touch modules, interactive whiteboards, video walls, automotive displays, and gaming monitors. In the future, TCL CSOT will keep devoting itself to technology innovation and providing high-end products for customers and building a vibrant display industry ecosystem.
SOURCE TCL China Star Optoelectronics Technology
https://www.tcl.com/us/en/press-releases/tcl-home-theater-ces-2023