AUTONOMOUS VEGETABLE WEEDING ROBOT – DINO
The Dino robot is designed to make vegetable weeding on large-scale vegetable farms easier. Its main asset is that it works autonomously, so you have more time for tasks with higher added value.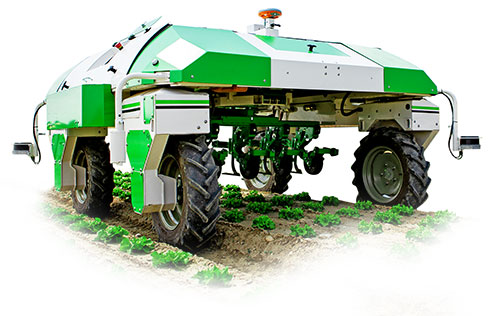 The Dino weeding robot allows vegetable farmers to manage crop weeding with a high level of precision, while helping them save time all through the season.
Dino is highly effective to weed vegetables that are grown in the field, both in raised vegetable beds and in rows, such as lettuce, carrots, onions…
Dino is the first entirely autonomous electric robot to mechanically weed vegetable crops. The robot is designed by Naïo Technologies.
Dino allows you to schedule weeding chores at the times that suit you best. As it works by itself, you're now free to accomplish other tasks elsewhere while the robot weeds a given vegetable plot.
Technical data
 Use: Dino is designed to autonomously weed raised vegetable beds and rows
 Size: Length 250 cm / 98,4 inches – Height 130 cm / 51.2 inches- Adjustable distance between wheel axis from 140 to 180 cm (55.1 to 70.9 inches), i.e. a maximum length of 250 cm / 98.4 inches.
 Weight (without tools): 800 kg / 1,764 pounds (depending on battery and tool configuration)
 Energy: 100% electric – lithium batteries
 Autonomy: up to 8 hours *
 Traction: 4-wheel traction
 Navigation: GPS-RTK Navigation + camera : centimetric precision
 Work speed: up to 5 ha per day *
 Work width: rows from 120 to 160 cm / 47.2 to 63 inches – inter-row is possible from 15 to 50 cm / 6 to 20 inches
 Speed: up to 4 km/hour / 2.5 miles/hour
 Other: text message communication with anti-theft tracking device
 Origin: designed and manufactured in France.