Evolv weapons detection system combines powerful sensor technology with proven artificial intelligence (AI), security ecosystem integrations, and comprehensive venue analytics to ensure safer, more accurate threat detection at an unprecedented speed and volume.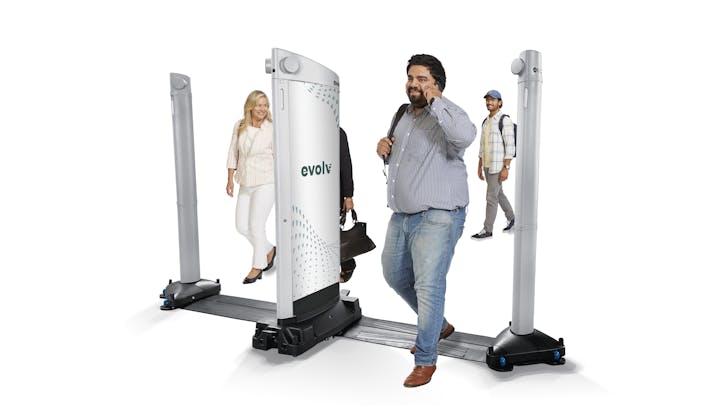 Evolv Express accelerates physical security screening while maintaining the highest degree of weapons detection accuracy. It eliminates the friction that visitors, fans, patrons, employees and students typically experience moving through security by screening them in a touchless manner. This helps reduce the security risk of crowded security lines. It also drastically reduces false alarm rates and human errors by security guards.
Traditional security screening was not designed for today's dynamic threats. Unlike metal detectors, manual bag checks, wanding, and other traditional solutions, Evolv Express® offers an innovative approach to physical security screening.
Evolv Express® is an AI-driven system using safe, ultra-low frequency, electromagnetic fields and advanced sensors to detect concealed weapons.
The Evolv Cortex AI™ software platform serves as the brain and connective tissue to seamlessly integrate and process data from multiple sensors. The platform is also constantly learning, meaning Evolv Express "evolves" over time as new threats are identified.
IWith Evolv Express you have the ability to integrate available security cameras directly into your security operations center (SOC), video management system (VMS) or other AI video analytics system.
Threat AI Classifier Gets Smarter Over Time
Trained using an extensive set of real-world threat data, the Evolv Threat AI Classifier is the intelligence powering the unmatched accuracy of Evolv products. The classifier continuously differentiates true threats from harmless objects in real time.
Evolv's Intelligent Sensor Network generates millions of multi-layered data points for Evolv Express® every second to sense weapons in real-time with precision.