Transboard is a three wheel foldable electric kick scooter or self balancing scooter.
The Transboard will have about 25 miles of range from the detachable 48V 8.6Ah battery and the 500W motor makes it capable of speeds up to 22mph.  Capable of carrying a 220lb rider, it weighs a somewhat hefty 53 pounds – but when folded it can be rolled like a rolling suitcase since it already has a built-in handle and wheels, so wheeling it around shouldn't be too difficult.
Transboard" gives you easy access to ecofriendly personal mobility in the city, in the country or anywhere else you happen to be.
Double wishbone suspension is installed in the rev-tricycle frame of the the Transboard helping the rider to drive safe under any road conditions. Also, the special self-folding system helps Transboard to fold in one simple gesture. The result? Your transboard transforms into something like a travel carrier making it easy for you to carry it conveniently while folded.
Transboard can be folded in half with a simple hand flip and rolls along you with as easily as a piece of light luggage at the airport.
Transboard trim is composed of polycarbonate which is very strong in absorbing external shock as it provides special sensitivity delivered through high-gloss beautiful color and stylish lines you'll find in the sleek body of a car.
Transboard Performance
Claiming a 22 MPH with a 20-mile range, the Transboard can go up a 15% hill with a maximum load weight of 220 lb. Cruise control is also onboard, as well as a three-level speed limit system setting, which should come in handy when cruising longer distances.
The Transboard weighs 46 lb with a gross weight of 53 lb, on par with most modern e-bikes.
It uses a LED screen that displays the usual, speed, distance, power, and other functions. Five buttons help you power up the Transboard, as well as set the trip distance and more.
Mercane Wheels was founded by an entrepreneur/inventor who, while sitting in rush hour traffic, witnessed someone crash an electric scooter. Watching the rider crash and experience pain from the fall inspired him to invent an electric scooter that would be safe to drive. He also wanted it to be easy to transport when not being ridden.
These ideas led him to create the Transboard electric scooter.
His concerns for safety led him down an R&D path that ended with the final Transboard design – what they call the rev-tricycle system. We'll discuss the specs more later.
The Transboard electric scooter definitely looks sturdier than other electric scooters, with a wider frame and footpads. From its design, it's easy to imagine it being safer for everyday riding. You won't fall from a loss of balance at least, which is an improvement.
Transboard is a breed apart from a standard electric kick scooter or self balancing scooter. Transboard can be driven by anybody without any complicated instructions to follow or specialized education/training thanks to its cool self-balancing control system.
Preventing accidents like these is what led the design team to perfect the rev-tricycle system for slipping and falling and the double wishbone shock absorber for a smooth, stable ride.
​The safety of this superior riding experience is further enhanced by a wider and longer frame not found on conventional scooters.
Another amazing engineering feat that everyone can appreciate is the simplicity of folding the scooter into something like a roll-away bag for easy transport into and out of the home or office.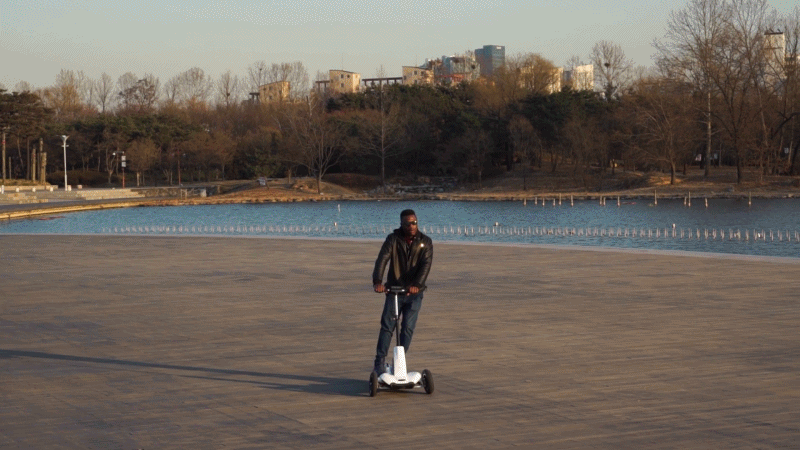 Much more than just a safe and stable ride, The Transboard delivers performance.  That's because the Transboard can run at a top speed of 20 miles per hour for up to 20 miles on a single 6 hour charge.
​It's easy to see a Transboard as a commuting alternative for a lot of people who can get to work faster and with far more fun when you consider bumper to bumper rush hour traffic when most people just sit in their car and crawl to work.
https://www.mercanewheels.com/