The Go1 is Unitree's latest device and comes with a perfected drive & power management system, which enables a speed (depending on the version) of up to 3.7m/s or 11.88km/h with an operating time of up to 2.5 hours. Furthermore, the motors have a torque of 23.70N.m at the body/thighs and 35.55N.m at the knees, which also allow jumps or backflips.
Unitree quadruped robot launched a new power intelligent inspection solution, designed a series of solutions for dangerous, urgent and repetitive tasks, and provided efficient guarantee for power system construction, operation and maintenance and other work. Fire And Rescue.
Unitree Go1 is capable of running at 4.7m/s, and is featured with Intelligent Side-Follow System (ISS), Super Sensory System (SSS) and built-in powerful AI.
ISS Intelligent Concomitant System
Adopt patented wireless vector positioning and control technology
The robot is in the person's lateral peripheral vision, it is better than the conventional follow mode with natural human-computer interaction, safe and secure.
No need to always look back and worry about whether the robot is lost or encounters obstacles.
When the environment is complex, people can actively choose a simpler route to help the robot pass.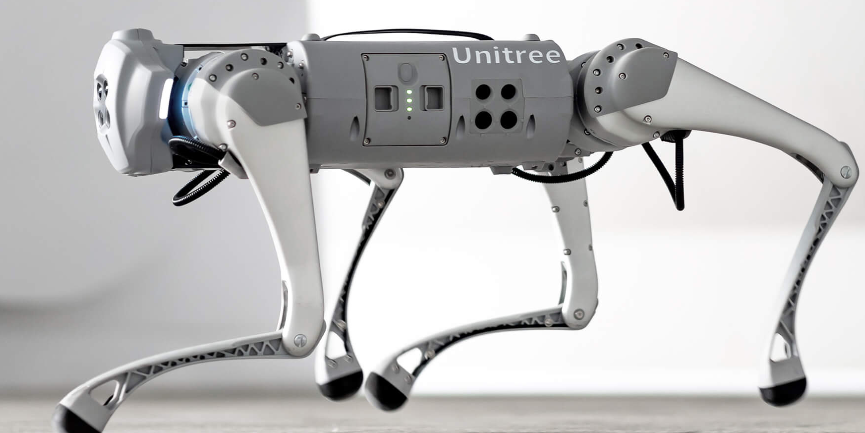 Robust and Reliable Powertrain
The new patented design of ultra-lightweight low-noise long-life power joints.
Body/Thigh Joint C1-8: 520g 23.70N.m (MAX).
Knee Joint C1-8×1.5 ratio 35.55N.m (MAX).
A patented heat pipe-assisted heat dissipation system is built into the vicinity of the knee joint motor.
Go1 with Built-in Super AI Hash Rate
Total: 16-core top CPU + GPU (384Core, 1.5TFLOPS)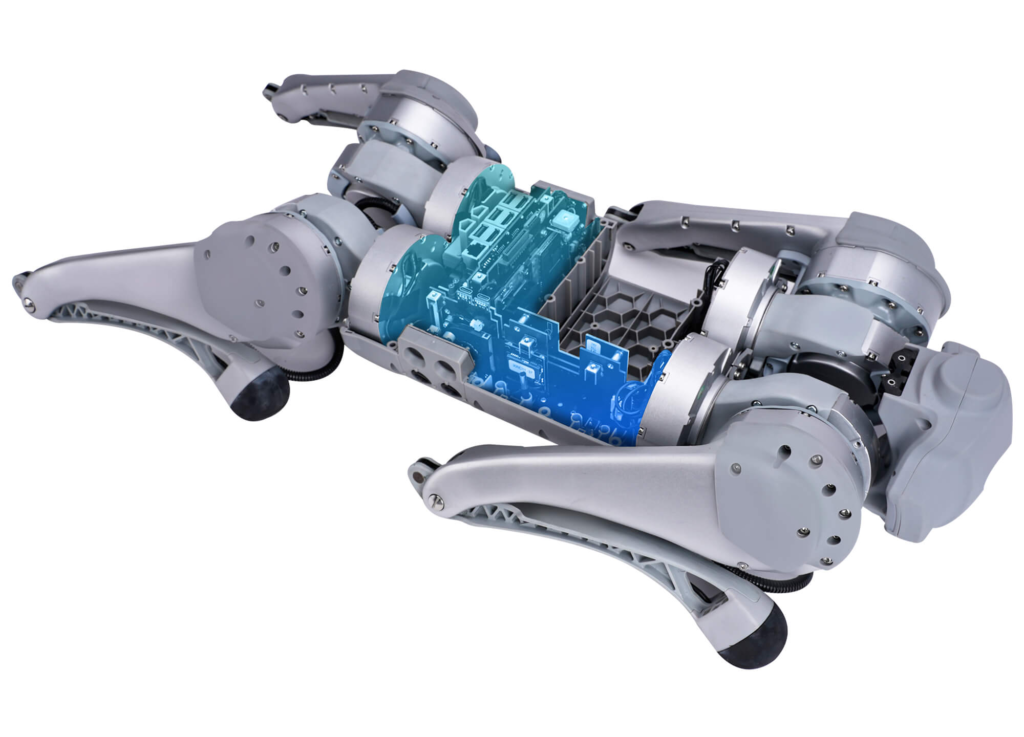 Reference, NVIDIA TX2 only has CPU (4 cores) + GPU (256Core, 1.3TFLOPS), and the unit price of the chip is 3000+ RMB.
All features of the GO1 EDU Basic
Human Recognition
Intelligent Side Follow
Full-view Coverage
Five Cameras
AI Processing
3 Hypersonic Sensors
Object Avoidance
Max Speed over 10 mph
Strong and Reliable Power System
10 lb. carrying capacity
Smart Camera*1 Unit (Depth camera)
Real-time HD video transmission
Support secondary development (High-level and low-level real-time API)
Human follow, Body recognition, Depth perception
1 extra unit battery
– Advanced programming, AI, and research features
Multiple ports for input and output devices
Research API
C++ API
Lidar
NXDIA Artificial Intelligence Module

Gesture Recognition
Skeletal Recognition

Visual SLAM (leverages 3D vision for location and mapping functions)
4G and 5G
Foot Force Sensor
Multi-function Extension Interface