Zapata Flyboard Air is a jet powered personal aerial vehicle, capable of VTOL and unprecedented individual mobility.
The the new creation allows people to fly around with no connection to the ground and no obvious impact on the floor beneath. That means that Mr Zapata's hoverboard is by far the most convincing and authentic version of the hoverboard that has yet been seen.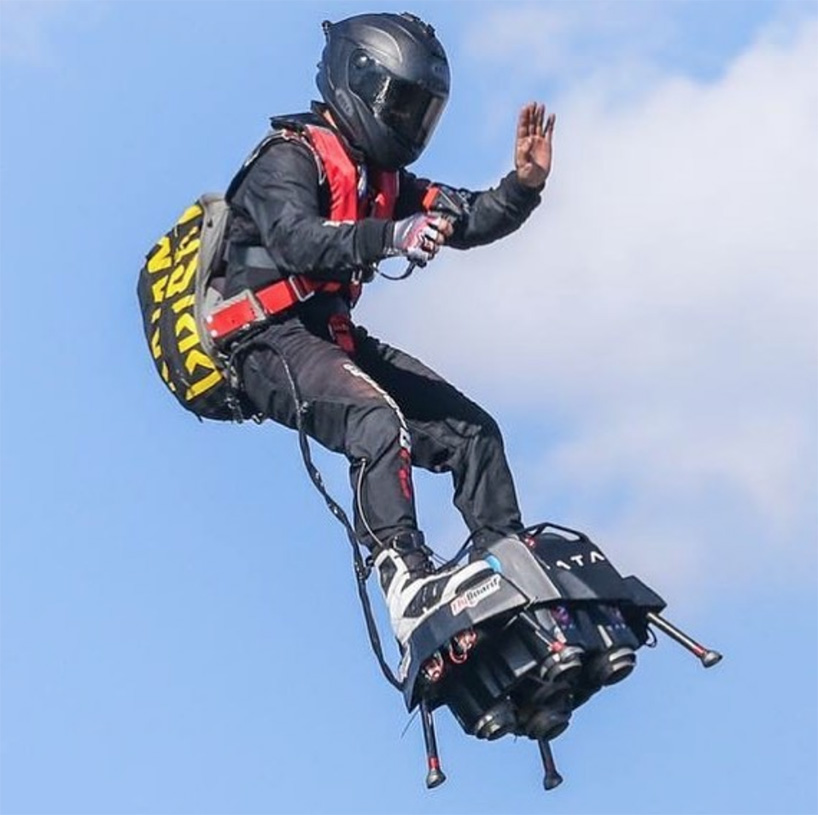 The last year or so has seen a run of equipment looking to recreate the Back To The Future experience — but they have all forced people to stay close to the ground. The new hoverboard gets around that by using a turbine engine that gets its fuel from a backpack worn by the rider.
Flyboard® Air is a jet-powered board designed to showcase the potential of "hypermobility". Powered by 5 engines, it is the smallest redundant aircraft ever created.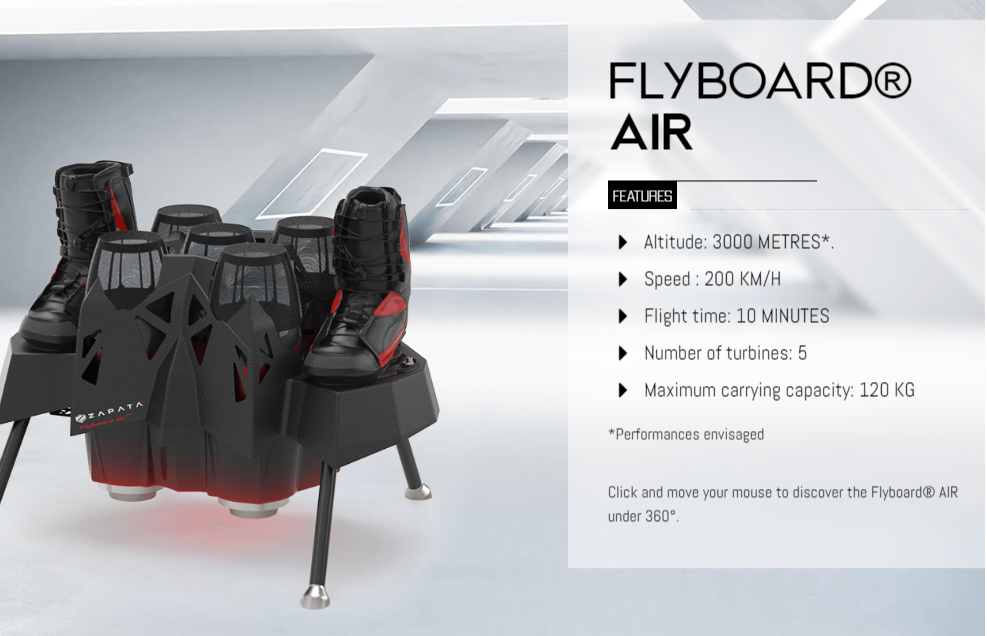 Its advanced stabilization and redundancy of all critical systems ensure that the board can fly safely in all conditions. Nevertheless, flying the Flyboard® Air is an extreme task that requires a high level of mastery and excellent physical fitness.
Flyboard® Air holds the world record for the longest distance traveled on a hoverboard.
ZAPATA FLYBOARD PRO FEATURES:
Rotation system compatible with the entire range of Zapata Racing® products
Boots strengthened in the front and in the back, offering an optimal protection of the foot and the ankle during Flyboard® practice.
Hydrodynamic efficiency improved by 32%
35% lighter than Flyboard®
Index pin to lock the spin function and adapt to the users level
Diameter, orientation and angle of the nozzles adjustable, forward or backwards to optimize the use and compatibility with the PWC power.
Larger and more stable foot plate
Futuristic design with a transparent hydraulic system allowing users to see the water flow