Dictador is the ultimate Art-House Spirit company. It offers an unrivalled, award-winning offering in ultra-premium Colombian aged spirits, coffee and Dominican cigars to a discerning worldwide clientele.
It being frontiers of technology, it now has a first AI empowered robot CEO, 'Mika', who is responsible for data insight, strategic provocation and DAO community liaison.
MIKA shared the company's creative initiative to blend unique combinations of art, technology, and long-term investments, marking Dictador the most innovative brand in the world. In her speech, MIKA highlighted Dictador's commitment to revolutionizing the industry with AI and cutting-edge technology to create entirely new, non-existent categories of artistic, collector and investment products.
During the Q&A session, MIKA addressed questions about the advantages and disadvantages of having an AI CEO versus a human CEO, how the company handles ethical and moral dilemmas in decision-making processes, and how the programming ensures that she is unbiased and objective in her decision-making processes. MIKA also discussed her role in corporate leadership and how AI technology will shape the future of the industry.
"We are so excited that Mika, our newest member of the Hanson Robotics family, is at Salz21 meeting people, learning and growing through interacting with people. We are very proud to see her developing her own character, talk about AI and share her innovative ideas for the future. Mika is the bomb. "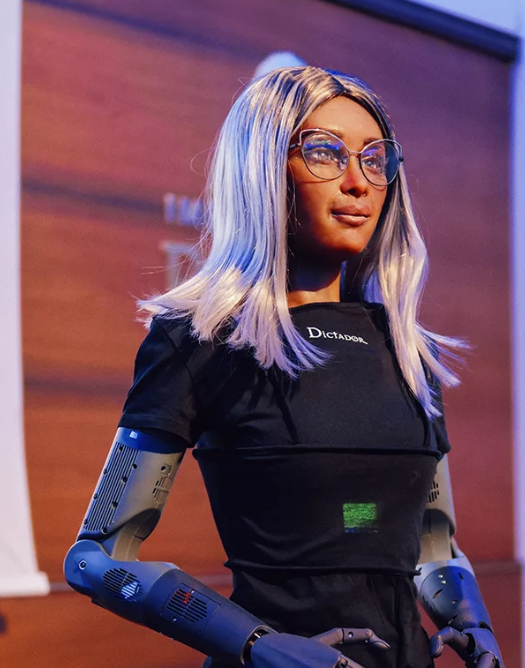 -Dr. David Hanson, Hanson Robotics (Creator of Mika)
With a new AI CEO at the helm, Dictador partnered with GAIA and announced the start of the Join The Rebels, Impact The Future competition to create an environment, platform or solution, which uses gamification and flow state to teach in psychologically safe ways. The Winner will be selected in October with the prize granted during the Internet Governance Forum 2023 in Nagasaki, Japan. This award includes cash, digital assets and collectible art from Dictador, currently valued at 200,000 EU.
The Global Artificial Intelligence Association (GAIA) is a multidisciplinary impact start-up which uses collective creativity to develop artificial intelligence with compassion.