The first strength training wearable with patented weight sensing technology.
The Delta Gloves automatically track your workout and help you reach your goals.
RECORD WORKOUT

Automatically records exercise, sets, reps & weight lifted in real time so you can focus on getting the most out of every set.

MEASURE PROGRESS

Review history of specific exercises or compare different workouts by comparing your power output (Watts).

CUSTOMIZED WORKOUTS

Use our artificial inteligence system to build customized workouts tailored to you or sync with your personal trainer and let their expert opinion guide you.

REALTIME FEEDBACK

Recieve haptic or in-ear notifications at the end of sets or rest periods. Get tips on proper form and technique.
Recieve personalized coaching through your headphones during your sets and access post-workout results in the PureCarbon app. Workout with confidence and beat personal goals with a training program curated just for you.
HOW IT WORKS
GEAR UP
Put on your Delta Gloves and get ready to begin.
SELECT WORKOUT
Follow your customized workout or pick from popular exercises within the app.
START LIFTING
Sensors automatically track your weights, reps, and sets.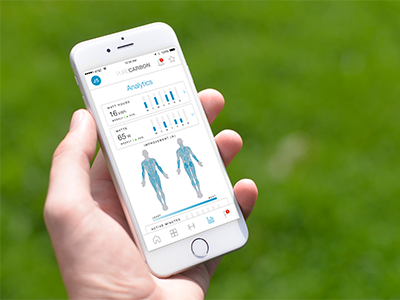 REVIEW
Check in on your progress and review your performance summary.
The Delta Gloves have soft flexible pressure sensors printed right into the gloves which allow the them to determine the weight lifted.
Any exercise that provides a unique motion and pressure signature can be detected automatically. This includes body weight exercises like push-ups and pull-ups that have minimal motion but highly detectable pressure signatures
The current generation of printed pressure sensors can detect up to 90 lbs of force per sensor. Each hand is equiped with three sensors apiece.
Each removable puck contains a rechargeable Li-Ion battery that lasts for approximately 10 hours.
At the start of each workout you are prompted to select a workout or freeform mode. Our workouts recommend exercises to do, how much weight to lift, how many sets, and how many reps. Freeform mode allows you to just workout and review your workout after you finish.