Garmin watches determines their current level of stress based on their Heart-Rate Variability. When using the stress level feature, the device uses heart rate data to determine the interval between each heartbeat.
The variable length of time in between each heartbeat is regulated by the body's autonomic nervous system. The less variability between beats equals higher stress levels, whereas the increase in variability indicates less stress. Some watches will prompt you when it detects a high level of stress offering you the option to reduce it through a breathing exercise.

Your device analyzes your heart rate variability while you are inactive to determine your overall stress. Training, physical activity, sleep, nutrition, and general life stress all impact your stress level. The stress level range is from 0 to 100, where 0 to 25 is a resting state, 26 to 50 is low stress, 51 to 75 is medium stress, and 76 to 100 is a high stress state. Knowing your stress level can help you identify stressful moments throughout your day. For best results, you should wear the device while sleeping.
STRESS TRACKING
Find out if you're having a calm, balanced or stressful day. Relax reminders will even prompt you to do a short breathing activity when you're feeling stressed.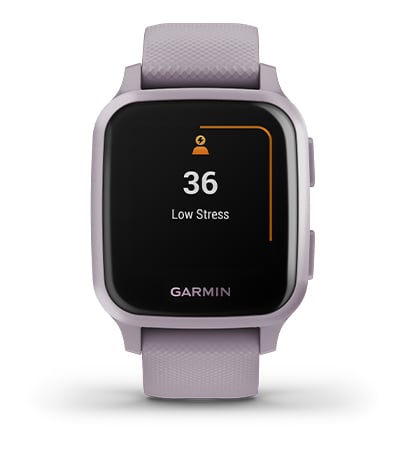 Other key Health measurements – Venu® Sq
BODY BATTERY™ ENERGY MONITORING
See your body's energy levels throughout the day so you can find the best times for activity and rest.
PULSE OX SENSOR
The Pulse Ox sensor3 gauges your blood oxygen saturation during the day and as you sleep to show how well your body is absorbing oxygen.
WOMEN'S HEALTH TRACKING
Use the Garmin Connect™ app to track your menstrual cycle or pregnancy. Log symptoms, get exercise and nutrition education, and more. Even get details on your wrist with the Menstrual Cycle Tracking widget and Pregnancy Tracking app.
HYDRATION TRACKING
Log your daily fluid intake as a reminder to stay hydrated. You can even have an auto goal for hydration that adjusts based on how much sweat you lose during activities.
RESPIRATION TRACKING
See how you're breathing throughout the day, during sleep and during breathwork and yoga activities.
ADVANCED SLEEP MONITORING
Get a full picture of how you're sleeping, with a breakdown of your light, deep and REM sleep stages as well as Pulse Ox3 and respiration data.
WRIST-BASED HEART RATE
The watch constantly samples your heart rate4 and will alert you if it stays too high or too low while you're at rest. It also helps gauge how hard you work during activities, even underwater.
MINDFUL BREATHING
When you want to relax or focus, you can start a breathwork activity, and this watch will track your stress and respiration to help you get a better understanding of how you're breathing.